So, here we are. Seven months later and I'm finally getting SERIOUS with this whole "onesie modification" business. This month, I present the happiest ELF in the land. 
The seven, as you can see, is stitched into Lars's elf belt. 
The belt is made from an elastic waistband I cut off of an old sweater. I pinned and stitched the black elastic on the sides of the onesie body, so that his tummy would have wiggle/stretch room.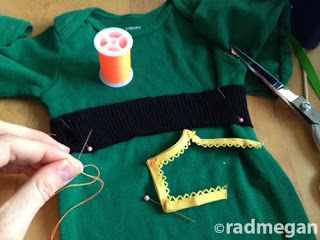 I used some trim I had inherited, and a little orange thread to make a belt buckle that I sewed onto the center of the black elastic, but not onto the green body of the onesie.. again, allowing for stretch. 
I stitched the "7" with some yellow embroidery floss and was happy to see the elf costume coming together!
Thankfully, I've been hanging onto lots of batting (because I have so much time, space and skill to quilt.) Batting made a perfect collar. I folded a small piece in half and cut out two elongated ovals. I pinned the pieces (with the opening of the fold at the top of the neck) to the front of the onesie, and stitched them down with white thread.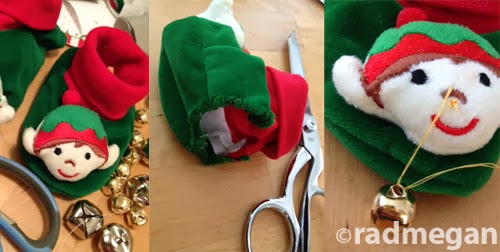 When I sent my husband to the store to get green socks and he returned with these too-small (and too-cute!) elf slippers, more modifications needed to happen. Luckily, I had red socks on hand, because I had to cut the backs off of the 6-month slippers in order for our giant 7-month old (who wears 2T-3T socks) to get his feet in them. I also sewed jingle bells on the elf noses because this boy loves things that jingle. LOVES.
This is what the outfit looked like with no baby in it. Cute right?
Once Lars was wearing this month's birthday onesie though, the cuteness level REALLY shot through the roof. And yea, he loved the jingle-bells on his feet. Mama always knows… 
We hope you all have a happy holiday season. We are loving every minute we get to spend with this little bundle, and so thankful that he's such a happy, joyful little boy. AND I'm thankful that I can dress him up in things like this now, since he FOR SURE will not want to take part in elf dress-up when he's older