Baby Lars looks more like "Toddler Lars" these days. He's four months old and wearing a 12-month onesie. To celebrate my giant offspring, I grabbed an embroidery  hoop, a pile of floss, and a pencil.
I sing Patsy Cline's "Tra-La-La-La Triangle" to Lars all the time. Maybe that's why I filled the "four" with triangles, or maybe because it looks a little bit like a party bunting. Either way, it's festive, and made quick work of the project. (Still very important to me, as I'm typically crafting and working when baby boy sleeps.)
A lime green yarn outline was pinned down and then stitched in place with some blue and yellow accents.
Note- embroidery with a giant baby on your lap is not terribly easy.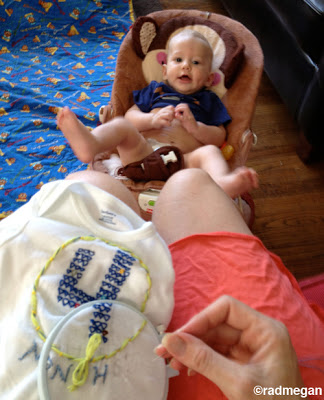 Embroidery with a happy baby in a bouncer chair, gleefully squealing at you is only slightly easier. (The cuteness can be mighty distracting!)
I added the word "month" in case anyone should assume he's a miniature four-YEAR old… rather than an enormous (and sweet, loving, energetic, happy, brilliant) four-MONTH old.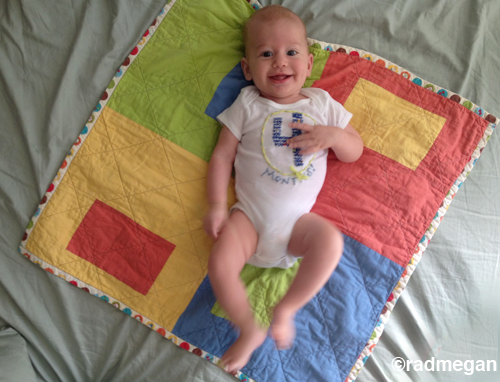 He enjoyed feeling the texture on his onesie, and seemed to approve of this month's design. I can't believe how quickly he's growing. Every day is a delightful blur.