Lars is two months old now, so I made him a new birthday onesie! Don't worry friends, the radmegan blog is not going to be a solid year of ONLY onesie modifications. 
There will eventually be toddler t-shirt modifications too…
And maybe tips for getting spit up out of our bra. 
But I digress.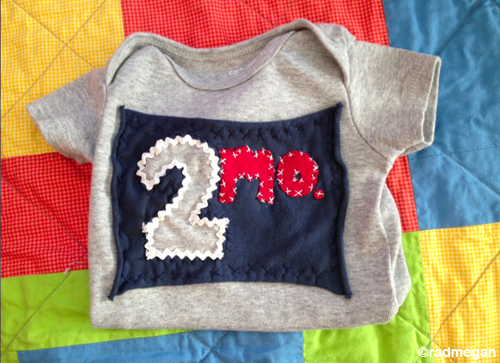 This is Lars' 2-month old onesie. For the record, it's a size 6 month. 
He's 26 inches long already. Gadzooks!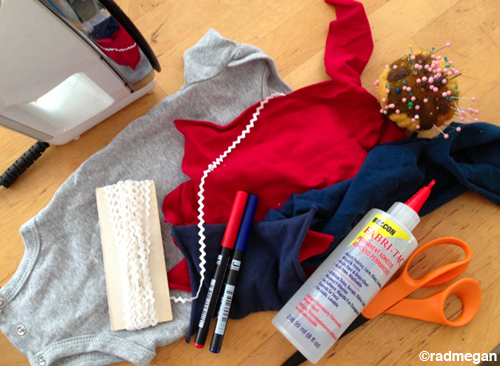 To make this month's onesie, I used, an existing gray onesie, fabric scraps of jersey knit (t-shirt material) from my Alabama Chanin stash, an iron, fabric scissors, fabric pens, pins, needle and thread (navy blue and white) and Rick Rack.
I ironed a rectangular swatch of navy and drew a "2" on it with the fabric markers. In red, I drew out "mo." and carefully cut the pieces out.
My plan was to do a little reverse applique a la Mrs. Chanin herself…
But this little sweetie doesn't nap for very long in the daytime… so I decided to stitch the blue swatch down and just glue the red bits down.
After I pinned the blue swatch to the front of the onesie, and was confident that the fabric glue was set enough to lift, I began stitching the patch down.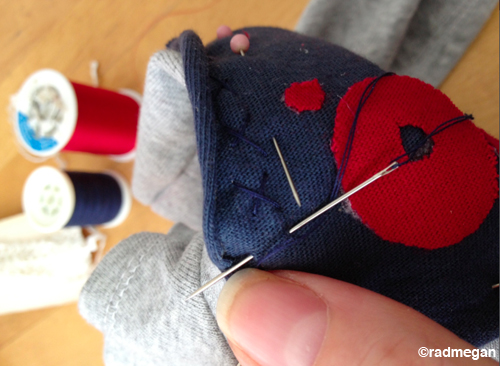 I went back and forth a few times on whether I should add Rick Rack to the outside of the "2" but after a few texts between my sister and mom, I committed to it. It IS for a baby after-all… might as well add a little extra cute where I can.
(Yes, I do think Rick Rack= cute)
My mom came up for a visit on his 2-month birthday and added the the white "X"s to the the border of the "mo." for a little something extra.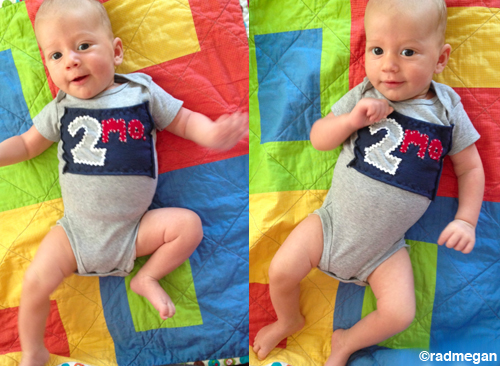 Little Lars seemed very pleased with his birthday duds. I'm thinking I will be making something for him to wear each month. 
My GOAL is to then put all of the onsies and tops together as a quilt, however the only quilt I've ever completed is the teeny tiny one he's laying on in the last photos. Wish me luck!
xoxo
radmegan