Did this month's onesie mean to look like the first draft of a horror movie poster? No. But let's call that a happy October accident. I really wanted to use Lars' hand for his five-month's onsie because he is growing like a little weed and I'm sure his mitt will be bigger than mine in no time.
Steps for this onesie were extremely simple. (Perfect for any busy mom!)
Step 1. Wait for your baby to wake up 
Not hard for me, since my little guy naps for 15-minutes stretches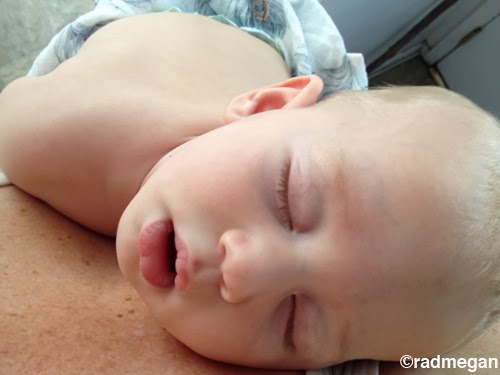 Step 2. Stuff the onsie with a paper bag so that the paint doesn't run through to the backside. Tape the onesie down to your work surface, and gather a bowl for your fabric paint and a bowl of water for a quick rinse afterwards. 
Step 3. Gently press your baby's hand into the paint and directly onto the onesie. Then, immediately dunk his hand into the water bowl. 

I was extra paranoid about the paint on his hands since he's teething and basically has his hands in his mouth 24/7, so I also drew a bath for him BEFORE we started this project, so that I could wash him off right afterwards! 
Step 4. Let the onesie dry. Follow any heat-set instructions your fabric paint calls for, and then dress your cutie-pie in his hand-print onesie.
Happy five-months to my sweet, tall baby boy! I love you more and more every day!