What a moment in time this is for us. On the morning of Mother's Day (May 12th) I gave birth to our sweet little son, Lars. We are so in love, we can barely see straight.

We've been so overwhelmed with joy these last two weeks. We've also been incredibly blessed by the kindness of others. I haven't been able to work on many of my own craft projects the past months, but I've SURE had some busy friends and relatives. These are just a FEW of the very special handmade gifts we've received.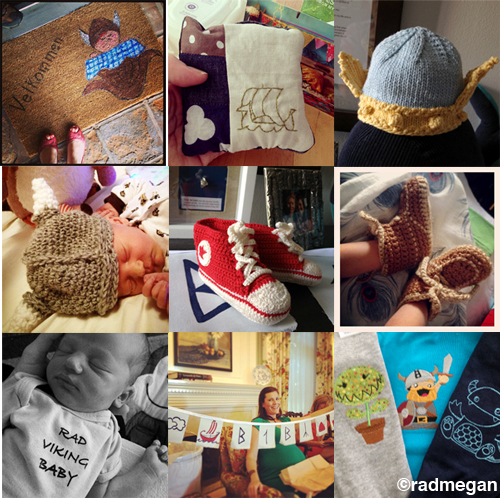 Row 1, Left to Right:
"Velkommen" doormat by my mom, Lavender Sachet with Viking Ship stitching by 

Jessica W.

, Thor inspired Viking Cap by Linda Z.
Row 2, Left to Right:
Knitted Viking cap 

Devon L.

 
Crochet Converse & Hiking booties by Aunt Connie
Rad Viking Baby onsies by

Johanna W.

,

 

Viking baby bunting by my

Creativebug

friends, Embroidered carnivorous plant, viking and dragon onsies by Amanda H.
There are so many more little treasures that have filled our homes with reminders of love, tradition and talent. We feel so so fortunate to have so many wonderful folks in our lives, but especially, our little angel Lars.