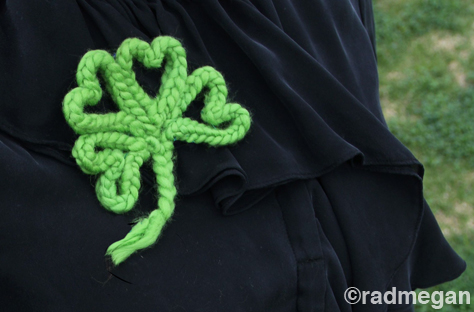 Happy St. Patrick's Day friends!! I don't normally post tutorials on Saturdays, but this is a quick one- just a fun way to make up a St. Patrick's Day Shamrock (with 3-leaves, OR a lucky four-leaf clovers!) and avoid getting pinched for not waring green today!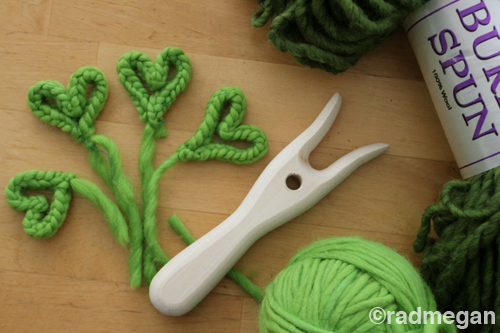 If you have your

radmegan-made knitting fork

(aka a "lucet"), some green yarn, about 15 minutes and some green thread, you are half way done already! In

THIS POST

, I show how to make

easy knitting fork hearts

. Start by making four hearts in green yarn (I used Burly Spun 100% wool yarn), then hand stitch the hearts together at their pointy bottoms. 
I cut away some (not all!) of the tails that remain on the knitted hearts, and braided them together to make the stem of the shamrock/clover. At this point, you can add a pin back to the shamrock, or attach it to your blouse, hat, purse etc, with a few long hat pins, or a couple of quick stitches!
(Note, this would be way more adorable on a child than it is on me, but alas none of my sweet nieces/nephews were available for a photo-shoot this morning!)
And if you are in the mood for the MOST delicious 

Irish Soda Bread

today, I would definitely encourage you to check out

my recipe

from last St. Patty's Day! It will have your Irish eyes a-smilin' and your hungry mouth a-waterin'!