Last week, I set out to make a Valentine's Day craft using my handmade knitting fork. Turns out, knitting up hearts is a snap with this handy tool!
If you haven't used a

knitting fork

before, I'd suggest watching the YouTube video I made (below) showing two different techniques. For my Valentine's Day project, I used the second technique which starts at 2:24 of the video.
For my knitted hearts, I made a chain that measured 8 inches long before binding off my project.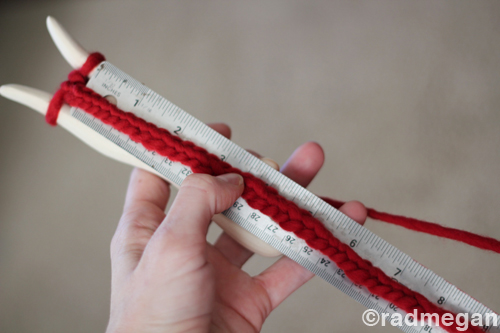 I tied the two yarn ends together to create a circle. 
Moving directly across from the knot, I pinched the top of the circle together. 
Then with a needle and thread that matched my yarn, I made a couple of small stitches in my pinched top, to hold the shape of my heart in place. 
Then I pinched the base, where the original knot was tied, and with my needle and thread, I hand-sewed a few stitches to bring the bottom of the heart together in a gentle taper. 
When I was done, I had a perfect, and very quickly knitted heart! I've made TONS of these since last week, and tomorrow, I'll share a couple of quick crafts that can be made FROM the hearts!