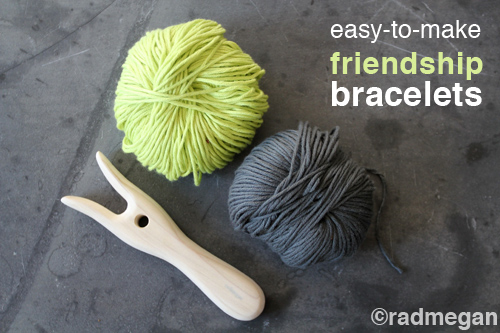 Lately I've been
meeting up with long, lost friend
s with little to no advanced notice. I'm a person who likes to give gifts to my loved ones and I prefer that those little gifts are handmade. But with my crazy schedule, it's become harder and harder to make something in a short amount of time, that I'd actually want to give away.
Since I usually travel with a knitting fork in my purse and recently visited an ADORABLE yarn & fabric store (while meeting a friend who gave ME a handmade gift) I knew it was time to make better use of ANY downtime I had… which at most, is about 10 minutes in a day. So while I inhaled ate my lunch yesterday, I took the two new balls of yarn I'd picked up at Brooklyn General and sat down to crank out some friendship bracelets. Are these the bracelets we all learned to make in grade school? No. These are way easier! And if you can get a couple colors of lovely yarn (on sale) they are a fantastic gift to give in a pinch. I dare say you could make them while walking to your impromptu coffee date!
For those of you familiar with my radmegan knitting fork video on youtube, you will recognize this as the second method I teach in that clip.
If you haven't watched it, it's MUCH easier for you to take a few moments, check out the second technique I demo in that video, and then meet me back here.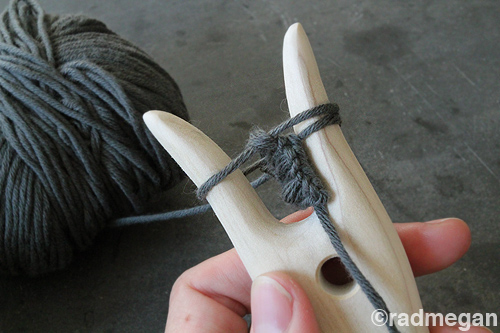 Back already? Hi! 
My favorite part of that process is knitting a few stitches of the yarn on the fork and leaving it all bunched up.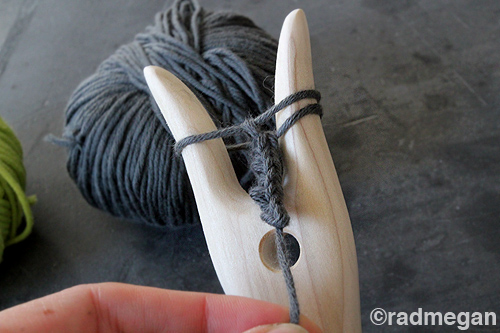 Then, after about 12-15 stitches, I take the tail end of the yarn and pull.
Seeing the chain unfold is one of those small things in life that just makes me really happy. Like like trampolines and baby hedgehogs; it doesn't take that much.
As soon as I've got a strand long enough to fit around a wrist (between 6 and 8 inches depending on the size of your friend), I snip the yarn.
I carefully slip the two loops off the tines of the knitting fork….
…and weave the yarn end through the loops. When you pull the yarn end tight, it won't unravel.
Depending on how many bracelets you want to make for your friends, you can either tie a square knot with each end of your knitted strand, or stack a few bracelets and knot them together all at once.
Tying the yarn ends of your bracelets together might seem risky, but as long as you are generally close to your friends' wrist size, your yarn should have enough give in it to slip on and off of their wrist. 
For this project, I paired a charcoal gray color with an almost neon chartreuse. I was pleased and surprised how well they went together and look forward to experimenting with more color and yarn weight combos.
Each bracelet literally took me just a few minutes. I'm going to start making piles of these during phone calls, commercial breaks and while in line at the post office.

The bottom line is, it'll be a long time before I let myself run into a friend empty handed!