Yesterday, I shared a very quick way to make a

"knitted" heart using a knitting fork

. Today, I wanted to share a few fun ways to use these hearts in your home decor and as Valentine's Day gift ideas!
Knitted Heart Craft #1:
Heritage Flag Hot Pad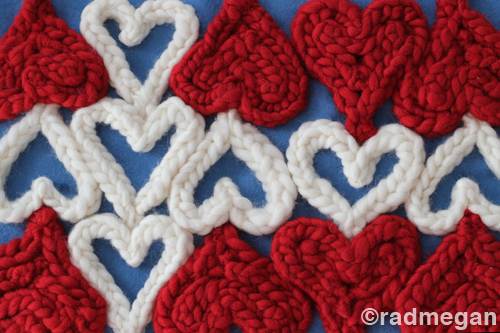 I'm sure I've mentioned my Norwegian roots before, so it may not come as a surprise to you that I wanted to make a Norwegian flag out of my knitted hearts! This is more than a flag though, it works really well as a hot pad for the table. So whether you've made a piping hot pot of 

nettle soup

or, just want to enjoy a cup of afternoon tea, this is the perfect craft for you! AND this design can easily be modified to work for a number of other flags. 
I started out by making eight additional eight-inch hearts in white (I'd made plenty of eight-inch hearts in red already.) I then made ten additional four-inch red hearts to add to the center of the eight-inch red hearts. I stitched the smaller hearts together using the same technique outlined yesterday, and then placed the smaller hearts directly inside the larger ones, stitching them in place. 
I positioned the red and white hearts on a large piece of blue, wool felt. I chose blue felt so that it would show through the center of the white hearts, mimicking the Norwegian flag. I then stitched each hearts in place using a needle and matching thread. 
When all of the hearts were sewn in place, I added a second piece of blue felt behind the first to hide all of the loose threads. Overall I'm extremely happy with the look and functionality of the hot pad. 
And to my mother, who I'm SURE is reading this, YES! This *is* your Valentine's Day gift!!

Knitted Heart Craft #2: Wearable Pin
This may seem like a cop-out after the lengthy tutorial on Heritage Flag Hot-Pad making, however, I have had these little knitted hearts lying around for a few days now, and when I pinned one to my t-shirt today, I immediately felt my spirits rise! All you need is one knitted heart in the color of your choice, and a hat pin. Weave the pin through the heart and your clothing, and be sure the end of the pin is tucked inside the heart, and not against your skin. Presto! Cupid Couture. 
Knitted Heart Craft #3: Heartwarming Hanging Garland
I admit it, I'm a sucker for sewn garlands. After making the Halloween T-shirt ghost garland, and the 3D paper pom-pom garlands, I've really come to appreciate the smallest chain of patterns hanging in my home. Threading a thin ribbon through each heart, tying a simple square knot and then stringing another heart onto your ribbon will give you immediate gratification and an instant boost to your holiday decor!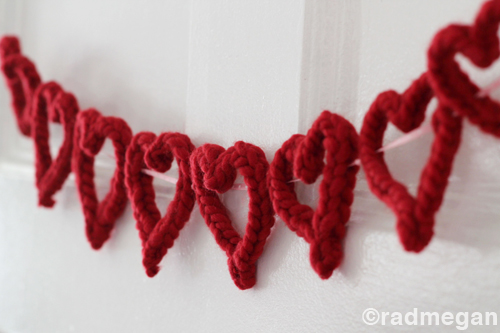 Knitted Heart Craft #4: Necklace
Love that garland so much you wish you could wear it? You can. A row of 8-inch knitted chain ends up making a heart about three inches in diameter. TOTALLY WEARABLE. Hey, I wore a Kermit the Frog neck garland… so why wouldn't I wear a knitted heart garland? 
Knitted Heart Craft #5: Valentine's Day Card Embellishment 
Lets say you are not into the wearable hearts. No biggie. By linking two different colored hearts together, you have a visually captivating embellishment that makes an easy and quick Valentine's Day card!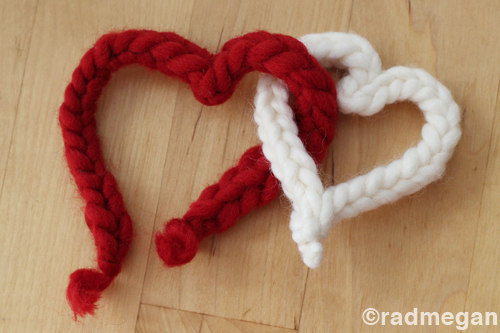 I took one 12×12 piece of red paper, folded it fourths, and then with a needle and thread, I stitched both hearts to one of the lower corners of the paper.
When I folded my paper back up, the stitches were hidden inside the fold! 
All it needs now are a few sweet nothings written inside and it will be ready to give away!! 
I hope you will find one or two heart-shaped crafts here that will make your knitting fork crafting that much more fun! I've got another batch of knitting forks I'm going to be working on this weekend, so feel free to check my

etsy

store

if you haven't picked one up yet