If you've ever read this blog before, you probably know how much I adore my nieces and nephews. They often come over to hang out, to bake cookies, occasionally
sleep in my backyard
,
and of course, craft with their Auntie Meg- who never minds glitter in the carpet, or paint on the table. Since I picked up needle-felting, the kids have been curious about this craft. Curious to the point of sneaking in the craft room and trying it on their own.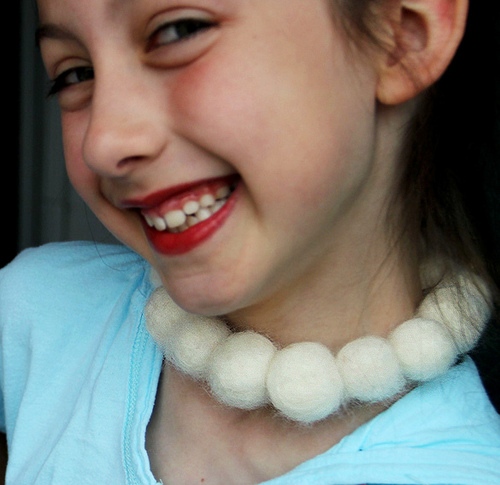 You can imagine my horror when I walked in to spy a 6 and 8-year old wielding a barbed needle, trying to make something out of the piles of wool fluff I had lying around. Based on the number of times I've stabbed myself with the barbed felting needle, I would not normally say that this is a craft I'd recommend for wee ones. However, with adult supervision, needle-felting can be a fun craft for kids who listen carefully, watch their fingers, and never ever point their needles at others. Making felted faux pearl necklaces and jewel-toned bracelets is a great beginner project, because you only need to know how to needle felt a basic ball shape. Here's how we made the needle-felted balls:
Step 1. We started with some wool roving, a felting needle, and a felting pad.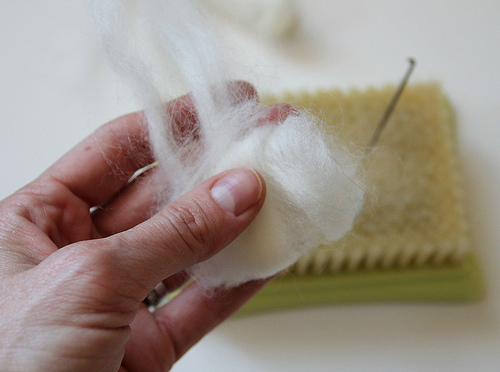 Step 2. We rolled up the wool so that it was basically ball-shaped.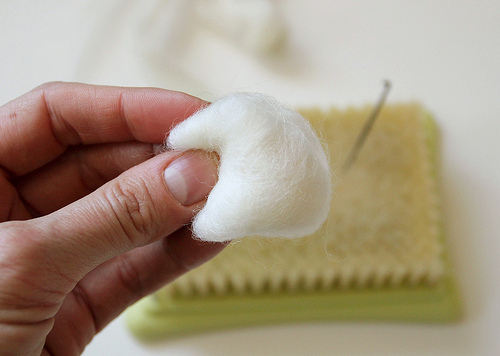 Step 3. We gave the wool a tight pinch, and while pinching it with one hand, we set it down on the felting pad and did not let go.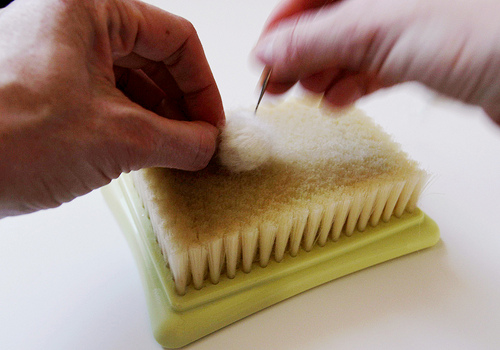 Step 4. With the other hand firmly holding the needle, we stabbed the ball of wool repeatedly, and in all directions, until the wool became matted into the circle-shape we wanted. We rotated the ball a few times so that all sides were evenly stabbed, and ended up being about the same density. Once one ball was done, we made another, and another and another…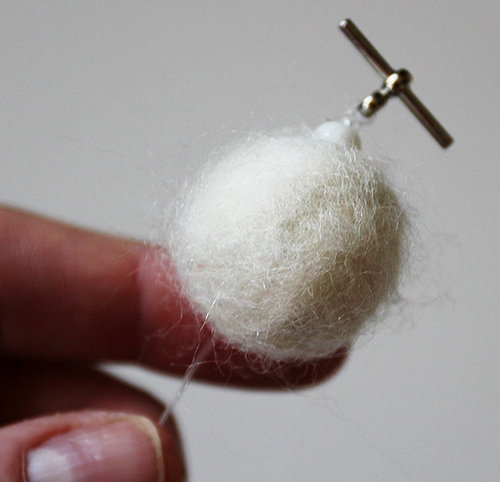 Step 5. After trimming away some of the excess fuzz on our finished "pearls", we ran a length of fishing line through the felted ball, added a plastic bead, and attached a jewelry clasp, and voila! We had an over sized faux pearl necklace, worthy of

Wilma Flintstone

. For a jewel-toned bracelet, we selected various colors of wool, and repeated the process.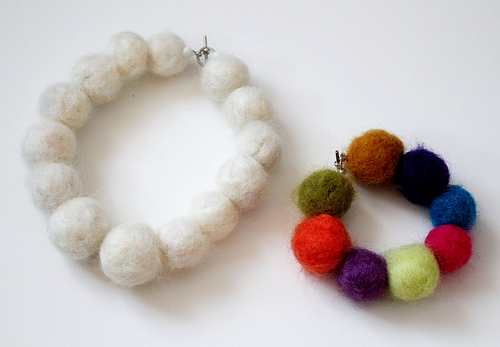 For us, the key to success, was starting slow, and watching the point of the needle at all times. The kids did get stabbed once or twice, (and took it like champs. I think I winced more than they did watching it!) so holding the piece of fluff firmly with one hand, while guiding the needle into the fluff carefully, and like I said, slowly at first, was a good way for them to get comfortable with the motion of it.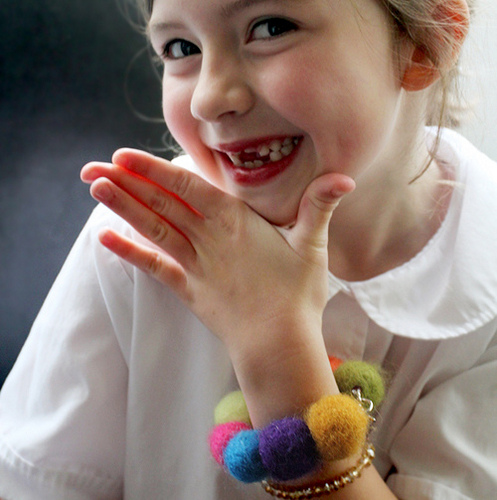 They were both very happy with the end results and were only disappointed that they didn't have pretty ball gowns to wear with their new fancy jewelry!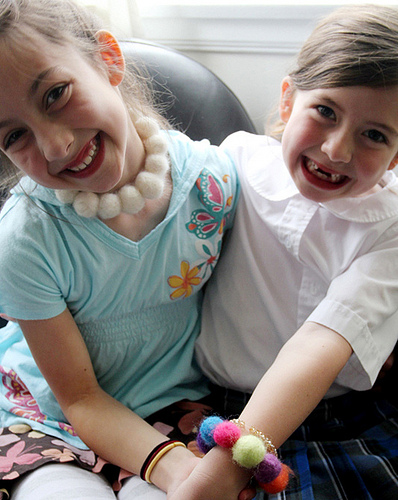 Note: Needle-felting each ball can take anywhere from 5-10 minutes depending on how comfortable your little crafters are with the needle, so a bracelet can take anywhere from 45 minutes to an hour, while a necklace can be double that.
I'll be teaching a class on making these felted accessories, as well as making felted bow barrettes at the

Urban Craft Center on May 16th

. If you are in the L.A. area and would like your children (8+) to take this class, or have friends who might be interested, please pass this along to them! Ca

ll

310. 392.0139

or email to sign up! 

hello@theurbancraftcenter.com
Also!! I wanted to let you know that I'm working on a BIG project this month, and will only be posting on the blog two or three times a week instead of every day. I
wish
I could keep bringing you a
daily
craft, garden project, or recipe, but for the next few weeks, I really need to focus on this BIG project… I can't wait to tell you about it, and I'll share details with you as soon as I can! In the meantime, I'll be here this week on Monday, Wednesday and Friday- and next week on Tuesday and Thursday with fun projects that I hope you will enjoy, and of course a photo every Saturday. 
Thanks for understanding, for reading, and thank you so much for your thoughtful comments! It always makes my day when I hear from you.