Yesterday, I got to see one of my favorite little girls. I don't like to show up empty-handed when I go to meet friends, so I made her a needle-felted candy corn headband for Halloween. 
I had needle-felted these candy corns a few weeks ago, thinking I was the first person to have this brilliant idea. Then I saw these cute (and cheap!)
kits at the Urban Craft Center!
Great minds think alike, right? After I had needle-felted my corns, I thought they were adorable, but I 
wasn't really sure what to do with them after I'd made them. Then, I straightened up my craft room and uncovered a stockpile of cute ribbon, and an elastic headband from the pack I purchased back when I
made these
. Plus, my mom had just phoned me to say that she was making headbands for a friend's birthday gift… All signs pointed to HEADBANDS!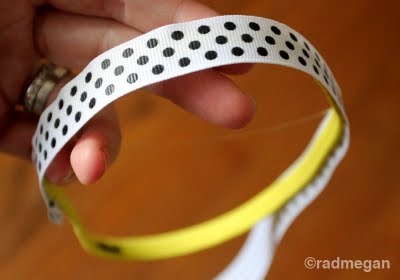 To make my Halloween headband, I began by applying a solid line of hot glue 
over 2/3 of the plain, elastic headband, pressing the
 black and white polka-dot ribbon onto it. Since this headband was going to become a gift for a 4-year old, the elastic didn't need to stretch much to fit, so a solid line of glue would work well. 
Next I took my candy corns and began stitching them together at the whites (the most narrow part of the corn) so that when they were fully stitched together, they would resemble a flower. 
After the flower shape was created, I made sure that any knots or visible threads were ONLY visible on one side. I glued accent ribbons in orange, purple, and black and white polka-dots under my candy corns (gluing them to the knotted/exposed-thread side), and careful not to let globs of hot glue sink into the center of the flower shape. Once it was set, I glued it slightly left of center, to the headband.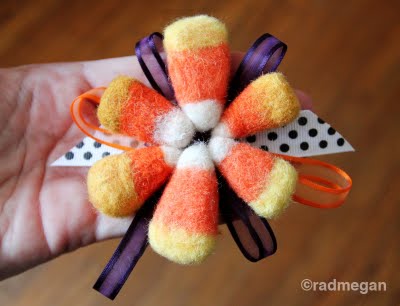 I was very happy with the finished Halloween headband, and my little Goddaughter looked adorable in it!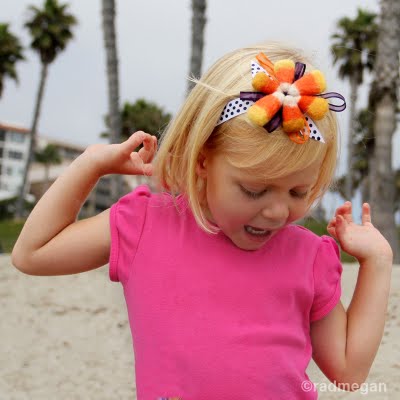 If you have a little someone in your life you want to make a Halloween headband for, this is about a 15-minute assembly after you've made your needle-felted candy-corns! Check out the

needle-felting candy corn kits from the Urban Craft Center

, or if you are not ready to try needle-felting, you could alter this design by using REAL candy corns.
Either way, Halloween is coming and I cannot wait! Lots of fun classes, and crafts ahead! Stay tuned!