For Christmas this year, I made invitations for three of my nieces and nephews to join me on personalized "date days" with their auntie Rad. Yesterday, my 7-year old niece, Madeline cashed in her date day: a day of crafts at my house and a trip to the Santa Monica Pier Amusement Park. 
We started off the day by picking up a brand new pair of Converse high tops, sunglasses and bracelets from the Target sale rack and then headed home to customize them in any way little M wanted. She was presented with fabric, buttons, embroidery floss (she is AWESOME at embroidery), paint, pens, and scrap pieces of lace and ribbon.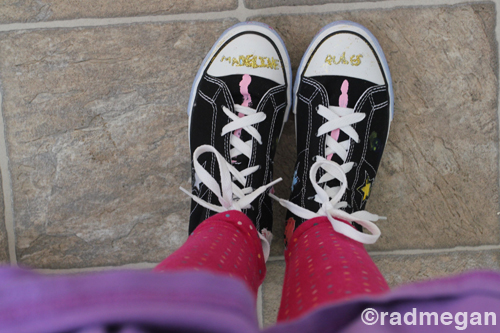 She came up with a very cool pair of kicks that included the phrase "Madeline" and "Rules" across her toes, an underwater landscape painted around the sides, fabric hearts stitched on with glow-in-the-dark floss, AND a secret photo pocket for lose change. She insisted that chocolate could go in this secret pocket as well, but I advised her to keep melty treats out of her sneaks. 
Next we glued plastic jewels to her new shades and Mod Podged ribbon around her new bracelets!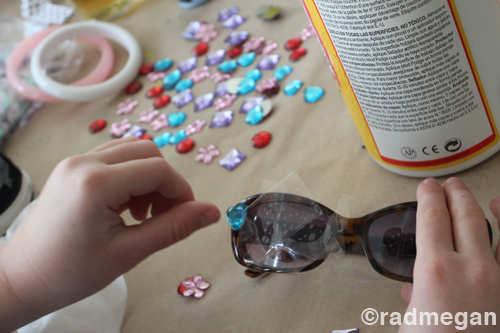 We played a few rounds of Pictionary together and saved each others drawings as a special reminder of the day. 
Finally, we baked and decorated mini cakes inside of eggshells (more on this tomorrow!) for her siblings and parents who were at home, sick in bed!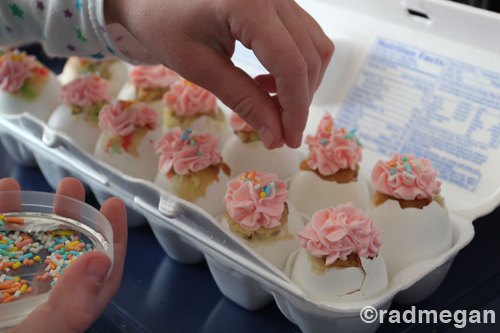 Lastly, we hit the pier in Santa Monica for rides, rides and more rides!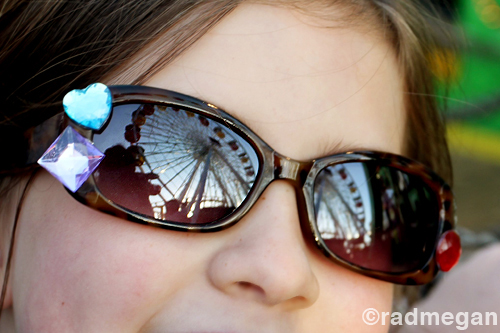 While there were a few rides that almost made me lose my lunch, we had one heck of a giggly good time! It was such a joy to craft and bake with my sweet little niece. Her pure creativity and raw talent were inspiring. And spending so much time with one of my nieces, doing something we both enjoy so much was definitely a gift for both of us!