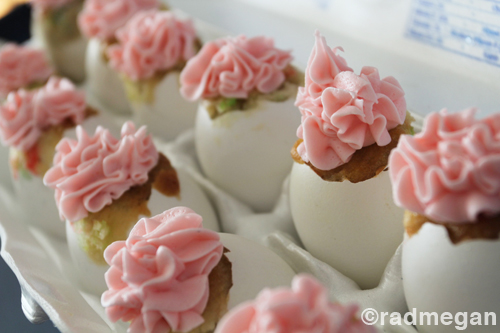 Lately, I've been thinking quite a bit about cakes baked INSIDE of chicken eggs. I've seen the results online: cute, petite and basically "portion control" dessert in a pretty costume. So when my niece and I had our

crafty date day

, we decided that if everyone else is doing it, we should try this sweet little food-craft too!
Using a sharp knife, I cracked a couple dozen eggs at their top and carefully peeled away just enough shell for the yolk to pour out. 
As I cracked and emptied out each egg, I separated the yolks from the whites and stored them in plastic containers for later use.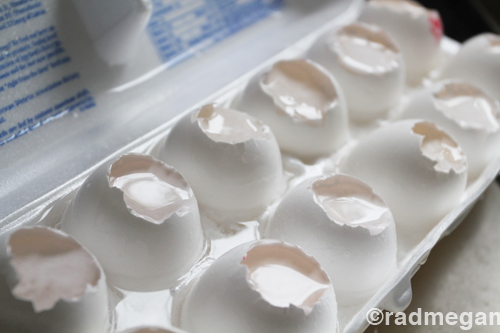 I rinsed out the egg shells thoroughly in hot water, and let them soak for about 30 minutes. (We used this time to glue plastic jewels to sunglasses.)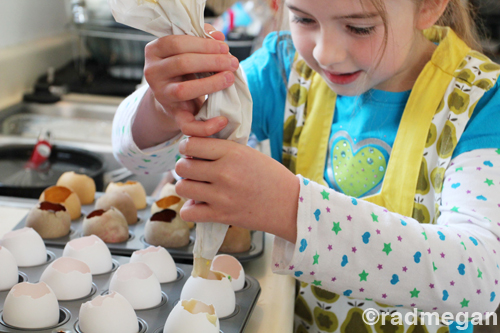 Since our day was jam-packed with activities, we used a boxed cake mix. (I know, I know, from scratch is so much better… but boxed cake (confetti cake at that!) was what we piped into each egg.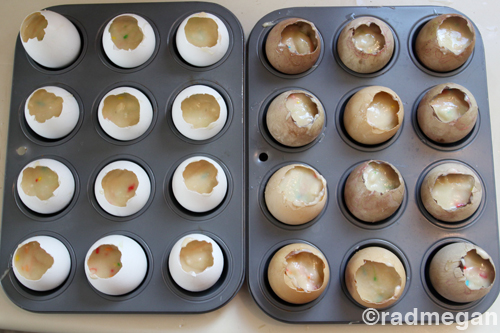 The night before I had attempted to dye the eggs on the right in beet juice… unsuccessfully. Let's pretend they are dinosaur eggs, ok?
We filled each egg with cake batter but left about a quarter of an inch from the top of each egg. We didn't want to fill them too full, fearing that they might overflow. We baked them for about 25 minutes at 350 F.
Apparently, a quarter of an inch of space is NOT ENOUGH! Leave more expansion room in your eggs! While setting the eggs in mini muffin tins for support was one good idea we had, the BETTER idea was putting the mini muffin tins on a cookie sheet before baking! That batter went wild!        
After cutting away as much of the extra cake from the shells as possible, the eggs were still pretty hideous. I used a wet wash cloth to remove the rest of the cake from the outside of the shells. This step is labor intensive- but important if you want to give your cake eggs to ANYONE! They really do get better looking… if you work to clean them up.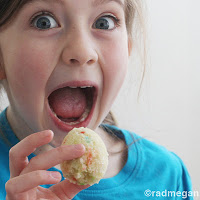 And if a few break during the clean-up process, I'm sure you can find someone to help you hide the evidence. 
Once cleaned up and relatively free of excess batter, a little frosting sure helps cover the multitude of sins you may still see.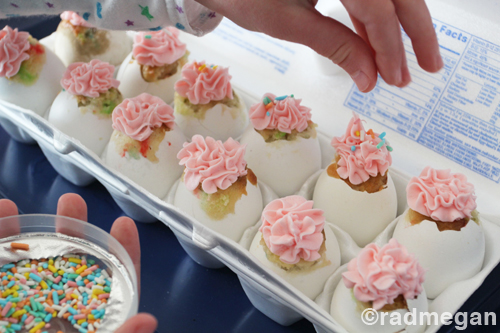 And then of course, there are sprinkles…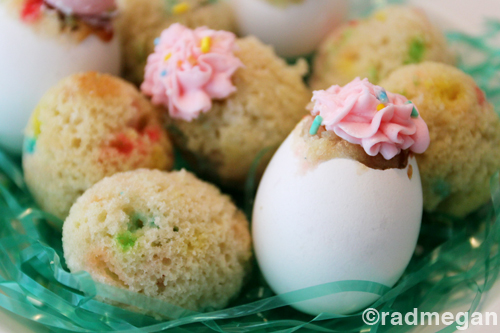 These eggs are certainly more fun to eat (peel the shell like you would a hard-boiled egg and ENJOY!) but for the amount of clean-up, I think I will only bring these out for special springtime events like Easter or special birthdays!


What do you think? Would you try these?