Last Monday, my better half turned 40. We celebrated by driving home from a family camping trip in the desert, showering, and napping for almost 6 hours.  When I snapped awake from the heat and dehydration-induced slumber, I had one thing on my mind: birthday cake.

I wo
uld not let my guy's big day creep away without the confectioner's symbol of celebration. While I know men claim ad nauseam they don't want gifts, cake or a fuss of any kind, this was a milestone birthday and what better way to celebrate than with his favorite type cake: lemon. 
I turned to Nigella Lawson's
How to Be A Domestic Goddess
for recipe ideas
.
This beautiful book is chock-full of goodies like strawberry shortcake, cheese blintzes, bagels, baklava and loads of other treats that will perfume the home with smells of oven-baked love.
On page twelve of
Domestic Goddess
, I landed on "Damp Lemon and Almond Cake." There was no accompanying photo, but I was feeling confident, and had all of the ingredients in my fridge and pantry, so I hopped to it while my 40-year old napped on.
I
 could have sworn I had more than one 2.5-oz bag of almonds in the house, but of course, during crunch time they couldn't be found. I used one of the bags of dried almonds my friend Dick had dropped off for an Asian custard recipe. I scanned the almonds before using them. They smelled extremely sweet, almost floral, and in size they were rather runty. The recipe called for ground almonds however, so the wee little nuts were no problem. Asian-market almonds to the rescue!
I must have been a little groggy from my mid-day snooze, because it took me an exceptionally long time to figure out which pan to use since I didn't have an 8-inch spring-form. I chose an 8-inch Bundt pan, (the only removable bottom I had) and whipped up a mixed berry topping as I threw the thick cake batter into the oven. 
Without a photo reference, I had not considered that the paste-like batter wouldn't gain another 6 inches in the oven. So when the timer buzzed, and my cake had turned a rich golden color, but was still camped out at the bottom of the Bundt pan, I had some trouble transferring it to a plate in one piece.
I vowed that this cake would be saved. 
It was almost 7pm at this point, and I was running low on ingredients (and steam) to re-make the cake. I simply covered it with foil, and pretended like it hadn't broken in 16 pieces. (La la la, everything's fine!) A giant scoop of homemade ice cream would hide the disaster cake, and maybe the birthday boy wouldn't notice that it was smashed apart, rather than cut into neat pieces.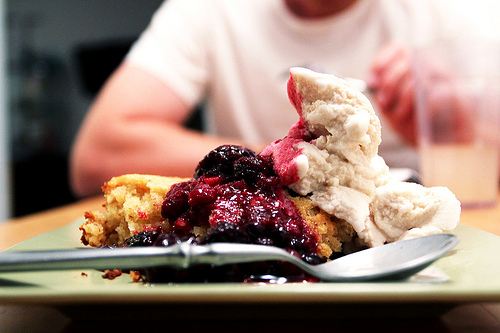 The ice cream, berry sauce and burning candle did mask the carnage of the broken lemon cake, but by now my husband was awake and asking questions about his birthday dessert.
"What's in this cake, it's good, but what's the nutty taste? …You used the almonds Dick brought us?? Those aren't almonds! They're apricot kernels, and unless they are cooked a certain way,
they are poisonous
!"
OH MY GOD. WHAT? Had I just baked an ugly, broken AND POISONOUS cake? I ran to the cupboard. Was my husband still asleep? He had to be wrong. I looked at the remaining bags, and there was no information about the almonds actually being apricot kernels, and perhaps
slightly
more important, no information about the toxicity level of the mysterious contents. Would this be our last meal? Arg! But it was so ugly!
After looking
online
, I confirmed what he had told me. Apricot kernels are toxic when eaten raw, and that's why they are not commonly sold in America. (Thanks for the gift, Dick!) By the time all of this came up, we had both eaten our cake, ice cream, and berry sauce, and practically licked our plates clean. Worst birthday cake ever? Most likely. Thankfully though, I am not typing this from beyond the grave. We survived! So baking the kernels for 45 minutes/an hour is apparently enough to stave off the grim reaper. 
The recipe I used is below. I
would
make this cake again, if I had the appropriate pan, and non-poisonous almonds. But I may wait a decade or two until this birthday is a distant memory. 
1 cup soft unsalted butter
1/3 cup all-purpose flour
1 1/3 cups ground almonds**
½ teaspoon almond extract
grated zest and juice from 2 lemons
8-inch spring-form pan lined with parchment or wax paper*
Preheat oven to 350 degrees
*DO NOT USE AN 8-inch BUNDT CAKE PAN. THIS WILL DESTROY YOUR CAKE.
**DO NOT USE ASIAN "ALMONDS" (Aka Apricot Kernels). THEY MAY DESTROY YOU.
Cream together the butter and sugar until almost white. Beat in the eggs, one at a time, adding a quarter of the flour after each addition. When all the eggs and flour have been incorporated, gently stir in the ground almonds, then the almond essence, lemon zest and juice.
Pour the mixture into the cake tin and bake for about 1 hour. Cover with foil after about 30 minutes, once the top is lightly browned. The cake is ready when the top is firm, and a skewer, inserted, comes out cleanish – you want dampness, but not gooey batter. Take the cake out and let it stand for 5 minutes or so in the tin. Then turn it out on a wire rack and leave till cool.