Yesterday I woke up needing a donut. It was one of those days.
Operation 10 in 3
would have to forgive this moment of weakness.
Donut selection is a tricky business. Do you really want to squander calories on some sweetly stale old grease-biscuit? No, you do not.  What you need is help from someone who understands. Someone who can deliver the most delicious, the lightest, fluffiest, snowflake-sugared, utterly diet demolishing donut. And that someone is Paula Dean.
I found her recipe for her
French Quarter Beignets
online and went for it. New Orleans is all over the news recalling the devastation of Katrina five years ago. Memories of my own 2002 New Orleans trip are hazy water color sights and smells at this point. Except for the food and music, which I can remember with pristine clarity.
After eating THREE of my homemade beignets (insert your judgmental thoughts and scolding comments here.
I certainly did!
) I rolled over onto the couch to moan in low guttural tones, cursing Dean and her masochistically delicious treats.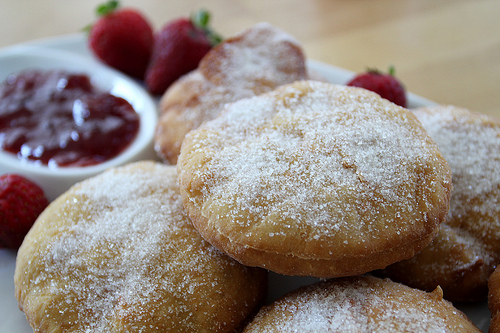 But can she really be held responsible for my weakness? Absolutely.  Dean's recipes should come with warning labels like the ones on tobacco products. "Surgeon General's Warning: Eating Paula Dean recipes causes bliss, euphoria, and appetite suppression, followed by overeating, uncomfortable bloating, and weight gain. And may lead to depression."
You've been warned! 

Ingredients

1 1/2 cups lukewarm water
1/2 cup granulated sugar
1 envelope active dry yeast
2 eggs, slightly beaten
1 1/4 teaspoons salt
1 cup evaporated milk
7 cups bread flour
1/4 cup shortening
Nonstick spray
Oil, for deep-frying
3 cups confectioners' sugar
Directions

Mix water, sugar, and yeast in a large bowl and let sit for 10 minutes.

In another bowl, beat the eggs, salt and evaporated milk together. Mix egg mixture to the yeast mixture. In a separate bowl, measure out the bread flour. Add 3 cups of the flour to the yeast mixture and stir to combine. Add the shortening and continue to stir while adding the remaining flour. Remove dough from the bowl, place onto a lightly floured surface and knead until smooth. Spray a large bowl with nonstick spray. Put dough into the bowl and cover with plastic wrap or a towel. Let rise in a warm place for at least 2 hours.

Preheat oil in a deep-fryer to 350 degrees F.

Add the confectioners' sugar to a paper or plastic bag and set aside.

Roll the dough out to about 1/4-inch thickness and cut into 1-inch squares. Deep-fry, flipping constantly, until they become a golden color. After beignets are fried, drain them for a few seconds on paper towels, and then toss them into the bag of confectioners' sugar. Hold bag closed and shake to coat evenly.