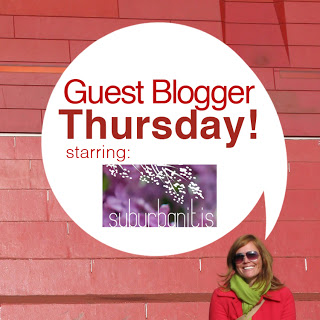 Melissa, from

Suburbanitis

is someone I've known (online) for just about ten years! I can barely believe it even as I type it! She's somebody I wish I could live next door to. I adore her so completely, and am super stoked that she shared this yummy recipe with us today! Hope you enjoy. More from me soon…         
xoxo radmegan
—————————————————————————–
Curry is a highly forgiving medium for experimentation. If you can keep a can of coconut milk and some curry powder in the pantry, you're always pretty darn close to having a great meal. This is a perfect way to put your own spin on a dish without much effort. Don't like broccoli? Use spinach. Or sweet potato. Omit the peanut butter, and use light coconut milk for a healthier option. Hot pepper flakes can add some desired heat in a (literal) pinch.


It doesn't have to be authentic, it doesn't have to be precise, but it can always be just the thing for that Wednesday night dinner. 
Recipe:
1 lb shelled and de-veined shrimp
1 large onion, sliced very thin
3 cloves garlic, diced very fine
1 head broccoli, florets cut from the stalk
1 14oz can diced tomatoes 
1 14oz can coconut milk
1 Tbsp creamy peanut butter
1 Tbsp olive oil
1 Tbsp butter
1 Tsp curry powder
1 tsp garam masala powder
salt and pepper to taste


Heat olive oil and butter in a deep skillet on medium heat, and add onions, curry powder, and garam masala powder. Stir frequently until onions are soft and curry is fragrant. Add chopped garlic, stir often until garlic starts taking on a golden hue. Add shrimp and cook until both sides are opaque, seasoning with some salt and pepper. Add diced tomato and accumulated juices, stir to incorporate. Add coconut milk, peanut butter, and broccoli florets, stir well, and cover, simmering on low until broccoli is just tender. Taste, and season additionally if necessary. Serve over rice – I like to use brown rice, but use what you like! Most importantly – enjoy!