When I started teaching needle felting at the Urban Craft Center, I met an awful lot of talented crafters! Devon Lott of

Miss Make

is one of them!! She's one of those "do-it-all" kinds of people I admire, and her creations always leave me impressed! 
Here's a link to
Devon's Etsy store!
Hope you enjoy her YUMMY recipe below!
More from me very soon…
xoxo radmegan
Maple Blackberry Pie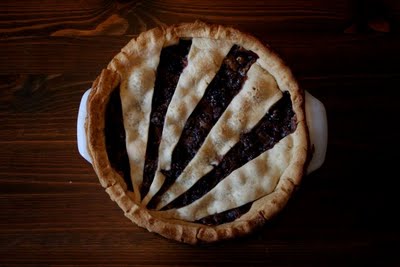 My childhood home was nestled in a pine forest in Ohio, and peppered through the trees were patches of wild black raspberry canes. As soon as the ground thawed in the spring, delicate, silvery leaves would appear along their thorny length, followed closely by hard little white nubs. As my brother and I walked to the school bus every day we would check on the nubs, and watch with excitement over the weeks as they slowly turned yellow, then the palest pink, then ruby red, and finally darkened to the most luscious deep merlot.


It was around every 4th of July weekend, that my mother would arm my family with long sleeves, hats, bug repellent and baskets, and we would set off into the woods to harvest the wild black raspberries. It was hot work, pushing through the dense, midsummer forest growth with humid air and buzzing mosquitoes. The ripe berries would practically fall into your hands when you touched them, staining your fingers a deep indigo no matter how gentle you were.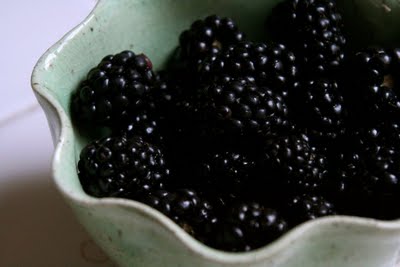 When our baskets were full we would report back to the house and empty them into a giant bowl, brushing off the occasional daddy long legs or minuscule caterpillar, then set out again for more. It would take us nearly a week to get all the berries. My mother would make black raspberry pies and black raspberry jam. We would eat black raspberries and milk for breakfast. The berries were small and sweet and a little tart, infused with sunshine and clean air and the goodness of pure wild nature.


You can't get black raspberries in a grocery store, but blackberries are close. This pie is sweet and tart and delicious with whipped cream. And nothing says "summer is here" to me like a dark berry pie.
Maple Blackberry Pie
4 6oz containers of blackberries, washed and dried
3/4 cup sugar
1/4 cup flour
1 tsp cinnamon
1/3 cup real maple syrup
dash of salt
1 package pie crusts (two crusts)
1 tbsp butter


1. Mix the sugar, flour, cinnamon and salt in a bowl. Gently mix in the berries and maple syrup.
2. Gently roll one crust into a pie dish. Fill with the berry mixture. Dot the top of the berries with the butter.
3. Roll the other crust over the berries and press the edges to seal. (If you want, cut out a decorative design first on a cutting board). Slit the pie with a knife to vent.
4. Bake at 375 degrees F for 30 minutes. Remove and carefully wrap foil around the edge of the pie to protect the crust. Continue baking at 375 degrees F for another 20 minutes.
5. Let cool. Slice and serve with whipped cream.