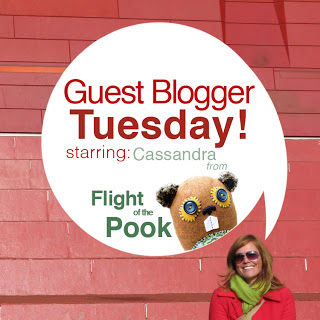 I first "met" Cassandra here on the radmegan blog! She left me a few lovely comments, and I followed the trail of breadcrumbs back to her blog where I fell in LOVE with her handmade plushies! I hope you enjoy this peek into her inspired crafting space!            
xoxo radmegan
—————————————————————————–
Crib's: the Crafter's Edition


Hello all you lovely readers! I'm Cassandra, a bloggy friend of Radmegan's. I'm so happy to be a guest poster over here while Megan's on her trip. (Many congrats to you, Meg, and I hope you're having a blast!) Per her awesome idea, I'll be taking you on a virtually-guided tour of my workspace. A sort of Crafter's Cribs, if you will. Without further ado…here is what we see upon entering the happy little haven that is my space:
Well, technically, this is a shot from the corner where my new sewing table will be. (A project I WILL complete this summer. The table is going to be made out of an old barn door I found, and some vintage apple crates we got at a local farm. I'm super stoked about it! But it's a lot of work – slowly but surely.) I generally tend to work in a sort of organized chaos. This is pretty much immaculate compared to what it normally looks like in here. I mean, it's pretty much the same, but usually there are a lot more projects strewn across all surfaces at any given time.


Here is my "command station":
This is where the magic happens, folks. I used to be a lot more picky about having things laying out. I tend to be an "everything in its place" kinda gal for the rest of the house. But I find that I'm a lot more inclined to just plop down in my big squishy chair and churn out a few stitches if everything is at my fingertips.
Pictures above, is one of my favorite spots. Probably because this is where Eustace currently lives. He's my latest art doll. And I love him. He's sitting here with some great vintage blue glass Ball jars. I love the color and weight to these old jars. I use them for holding a lot of neat stuff. Like my wooden spool collection. And buttons. Lots…tons! of buttons.  
As you can see, there are parts of my craft room where the neat freak does occasionally rear its obsessive head. Above, we can see the rest of my button collection. Organized in very specific categories. I have all vintage buttons in one jar. (I like to use only vintage for my plushies.) All the "new" buttons in another. The "one-of"s in another. And "non-button" buttons in another. There are also jars of safety pins, pin backs – things like that. I also like this shelf because it houses some of my awesome vintage toy cars. My boyfriend is a huge collector of old toy cars. I like the really colorful litho ones from the 50s – and this is where most of my mini collection lives.  


Speaking of collections:
This is a collection very near and dear to me. My Breyer horses. I used to be BIG into collecting these gorgeous model horses.  And following that whole "Breyer scene". Did you know they actually have "shows" for these? If you look close, you can see a trophy I won at a show once when I was younger. Also in this pic you can see some of my old book collection. I love old books. I don't know why. It's really everything about them I guess. I love the written word – literature, language, its history, its beauty. Most of these are classics – but some I just liked the graphics or the font, subject, etc.


And here's part of why I love doing what I do:
I love fabric. I love the colors. The textures. The movement of the different kinds of material and the countless combinations you have to work with. One of my favorite parts of my creation process is the fabric selection. And one of the greatest thrills I get during my thrifting/antiquing trips is finding some new awesome piece of vintage fabric. *Sigh* I'll never get over that rush. (Geesh, I sound like a craft nerd! Ha!)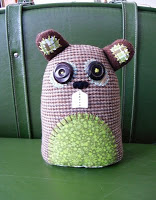 Anyway, I guess that pretty much wraps up the tour. I hope you thoroughly enjoyed yourselves! And I hope, if you're ever feelin' friendly, you'll swing by my blog and say hello. Oh! And I wouldn't be a proper saleswoman if I didn't throw in a plug for my Etsy shop. Check in often to see new plushie creations, new vintage finds, and the occasional one of a kind piece of jewelry, when the mood strikes me.