Today's guest post comes to you from a super duper talented crafter, AND an all-around awesome gal! I've admired Jessica Wilson for some time and am thrilled that she baked up this yummy post for you today!  More from me soon…            xoxo radmegan
—————————————————————————–
Howdy folks! I'm Jessica (aka jek) and I write and create for scumdilly-do!, scrumdillydilly and CRAFT. I'm pretty excited to share with you a couple of rad projects while our most illustrious crafty lady is off adventuring in Europe. I hope you enjoy what I am sharing!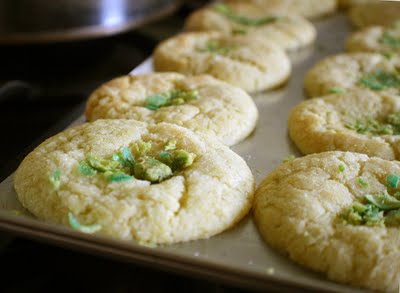 I've been a big fan of snickerdoodles ever since my dear mamos taught me how to make them back in um…a long time ago. It's not just snickerdoodles that make me swoon, no, I am a cookie opportunist. I tend to give them all a try, mayhaps it's that whole sugar thing. More than baking and eating cookies, I like thinking of new flavors of cookies. Recently, in preparation for the big Pillsbury Bake-Off I baked a half dozen varieties of a wasabi pea cookie I had tumbling about my noggin since last year. The recipe I submitted is still a secret but here's the second most favorite from the bunch, Wasabi Doodles! 
This is a seriously yummy cookie. One goes a long way and I urge you, if you bake them, do not eat more than one in a sitting. The texture is just like your classic snickerdoodle with the flavor not too far off (save for a wee bit of kick and a happy dose of crunch). My secret ingredient? Wasabi (horseradish) paste. So gather up a mixing bowl and wooden spoon and get to baking! 
Wasabi Doodles
1 cup (2 sticks) unsalted butter
1 ½ cups granulated sugar
2 eggs
2 ¾ cups of all-purpose flour
1 tsp baking soda
2 t cream of tartar
dash o salt
¼ cup sugar for rolling
2 T powdered ginger for rolling
2-3 T prepared wasabi paste
½ cup wasabi peas


I'm sorry I do not have any pics of the process, if you have cookie baking experience then you know what to expect. If not, hang in there, I've got you covered! 


First thing you need to do is grab your butter and chop it into smaller bits and pop into a small sauce pan. Place the pan on your stovetop and turn heat onto medium/low. We're going to brown the butter.


While the butter is melting and heading towards nutty goodness, grab a medium sized bowl and sift together your flour, salt, baking soda & cream of tartar. 


In a larger bowl, dump in your sugar. Set the eggs nearby for later use. Head on over to the saucepan of melty butter and stir it up with a wooden spoon. Keep an eye on it as it bubbles and when it reaches a nice golden color with bits of brown floating about, you're ready to turn the heat off. I am sometimes a bit too impatient and cannot wait for full nutty goodness, which is fine. The cookies still taste yummy and have an awesome texture! Pour melted and now browned butter into a glass measuring cup to cool a smidge.


While butter is cooling, preheat oven to 350 degrees F. Gather up at least two cookie sheets and fish out a shallow dish for your rolling sugar and ginger. Pour ¼ cup of sugar and the powdered ginger into the dish, sift with a spoon or fork and set aside.


Add the melted butter to the sugar (in the large bowl near the eggs) and give it a good mix adding your eggs as you go. Squeeze 2-3 Tablespoons of prepared wasabi paste into the sugar, butter and egg mixture. Do not sample the mix. It will be HOT! I find that one tube of prepared wasabi pasted is generally about 3 ½ tablespoons. Add your flour mixture and mix until everything is incorporated and you have a happy, not-too-sticky dough.


Roll a small superball (larger than a marble, smaller than a golf ball) sized bit of dough into a ball and drop it into your sugar/ginger mixture. Give it a roll until it is coated and place on your cookie sheet. Repeat until you have about twelve balls of dough on your cookie sheet, all gridded out and not touching. 
Bake 8-10 minutes in your preheated oven. While cookies are baking, dump a ½ cup of wasabi peas into a sealable plastic bag and give it a roll with a rolling pin to smoosh up the peas into smaller pieces. This job is great for kiddos or if yer having a not-so-good day. Pour into a bowl and accompany it with a large soupspoon. 


When your cookies look all happily puffed up and crinkly, pull them out of the oven and quickly add a pinch of crushed wasabi peas. Use the back of the soup spoon to nestled them in place and allow to cool. 
Depending on how you roll, you should get 3-4 dozen cookies. They will keep in a sealed container for a week though they probably won't last that long. My 4 dozen were gone in 24 hours! 


Enjoy!