Hi friends! I'm frantically stuffing far too much clothing into an oversized duffel bag along with a handful of last minute-crafts…
I wanted to be sure I left the radmegan blog in good hands for the next few weeks while I record my craft-photography video courses!- Which is why I have some of my all-time favorite bloggers lined up to bring you awesome crafts, tips and recipes while I'm out. The first gust post comes from my unbelievably crafty cousin-in-law! Seriously- everything she does is incredible! I hope you enjoy…           xoxo radmegan
—————————————————————————–


Hello to all you awesome radmegan readers! I'm Catherine from Cat on a Limb and I'm so excited to be here with a guest post for Megan while she is gallivanting around somewhere in Europe. I first met Megan this past November on Thanksgiving Day (as one of my newest relatives by marriage) and instantly felt like kindred creative spirits. I love keeping up with all her various creations – isn't it amazing what this woman can do?! I was really flattered when Megan asked me to write a post for her blog during her absence and hope you all will enjoy the project I've come up with!


A while back I picked up a shelf from a thrift store. I wasn't exactly sure what I wanted to do with it, but I loved the swirly brackets and the hooks on the bottom. Unfortunately I was too eager to get started (months ago) and forgot to take a "before" picture, so I created a mock up for you to get an idea. The hooks and brackets were brass colored and the wood had a dark brown finish.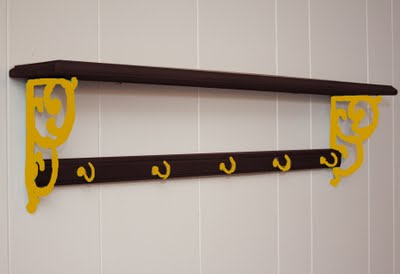 I originally was going to paint the whole thing white and put a metallic finish on the metal pieces. A few months ago I started painting it with white primer, but never finished. We recently moved (into a rental with white walls) and I decided to place my shelf in the bathroom-but I wanted a color other than white.  I had just gone to the beach with my two young kids (my first time in 9 years!) and was struck by the beautiful colors and look of the driftwood we found on the beach.  
I decided to strip down the shelf and see if I could mimic that look in a fairly easy way. After searching around the internet for a while I was just coming up with chemical suggestions – not good with kids around – or soaking steel wool in vinegar for a week — sorry too impatient for that! Then I stumbled across someone suggesting a 1:1 ratio mixture of baking soda and water and let the wood sit in the sun all day.  Well, we only get direct sunlight for a few hours, so I tried thinking of something that might expedite the process. This might have just been pure silliness on my part but I thought, well, why not use the baking soda idea and add vinegar? A fizzy, bubbly, chemical reaction must be doing something… right? (Ok, I admit, my last chemistry class was 10 years ago…) 


I started out by sanding to remove the primer, although it left a lot of the finish on the wood. I mixed up the water and baking soda, then spread it around on the wood.  
Next I drizzled vinegar over the baking soda mixture. Spraying would probably be better but I didn't have an empty spray bottle around.  
I let it sit for about 5-10 minutes then used a wire brush to scrub the wood.  
I then rinsed the whole thing off with water and dried it with a towel. It did a good job of removing most of the finish and I even liked the look of the little bit that was left.  
I liked the look so far, but it didn't have the grayish "weathered look" that I wanted. I mixed leftover brown glaze (4 parts glaze medium to 1 part latex paint), added some black and white craft paint, and a little water to thin it out.  
I don't have photos of this next step because I had to work too fast and couldn't stop for pictures, BUT I brushed on small amounts of the glaze mixture and immediately wiped off any excess with a wet rag.  The bare wood soaked it up really fast so I had to work quickly! With the damp rag, I removed just enough of the stain that the wood grain was just barely visible through the glaze. I continued until the whole shelf was completed stained. 
Of course you can always do other things to make it even more weathered- like sanding large areas down, gouging it, denting it, etc. I kept the integrity of the wood in-tact in case I wanted to re-paint it again later on.


I also painted the brackets and hooks aqua blue and made some seashell ornaments to hang on the hooks. Here is the final result: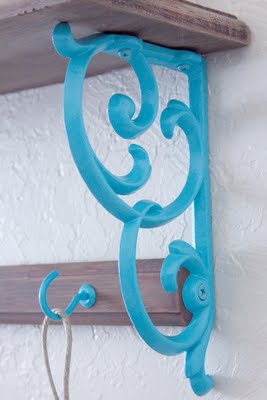 Thanks so much for letting me spend the day with you here at the radmegan blog. Be sure to come on by Cat on a Limb and say hi!


Catherine