I met Jessica Perkins of The Perkins Family Blog a few fears ago. I used to work with her talented hubby and when I met her, and discovered how talented SHE was, I thought it might be illegal for two people to have that kind of combined awesomeness. Enjoy this insane looking sweet treat from my favorite tropical locale! More from me soon…            xoxo radmegan
—————————————————————————–
Making Hana Coconut Candy


Coconut candy is a yummy slow-roasted, sugar-coated coconut treat that I thought could only be found at a roadside stand on the famous Hana Highway in Maui. It's something I have treated myself to multiple times after enduring the nauseating drive of that winding highway. 
Recently, my parents brought me back a few bags of this treat after a trip they had taken and I realized that it might be possible to enjoy the candy without having to buy a plane ticket or subject myself to the stomach-churning road to Hana. I researched and practiced the art of making this treat and this is the method that I've come up with!


To make this irresistible treat you will need:
1 whole coconut
Raw sugar (also known as Turbinado Sugar, Sugar in the Raw, or Natural Brown Sugar)
An old dish towel
1 Hammer
1 Nail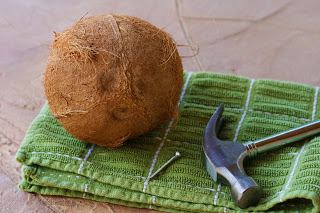 As I'm sure you've guessed, the hammer, nail and dish towel are not part of the recipe, just part of the coconut-cracking process. The great thing about this treat is how natural it is. It's just coconut and a little bit of sugar to bring out the awesome flavor.
To crack the coconut, I put a hole in each of the three depressions. Then I sat the coconut (holes-down) over a glass so all the coconut water could drain out. I don't know what to do with the water (let me know if you do) but it's a good idea to drain the coconut before you bash it into pieces. When the water has drained, cover the coconut with a dish towel and hammer it until you can feel that it has broken into many pieces. Once broken, pry the pieces of flesh away from the shell with a butter knife or your hands. Use a vegetable peeler to shave the coconut into thin pieces.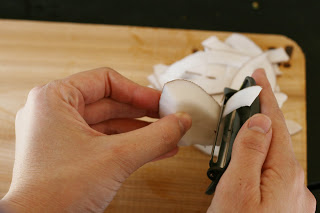 Put the shaved coconut in a ziptop bag with ½ cup of raw cane sugar. Place the bag in the refrigerator for 20 minutes until the sugar starts to melt into the coconut. If you leave it in the fridge for too long it makes the coconut too soggy (and nasty)! 
Arrange the sugared coconut shavings in a thin layer on a baking sheet. Heat the oven to the lowest setting. My oven's lowest temp was 170, I wouldn't go higher than 200. Stir and rearrange the coconut about every hour. 


These are going to bake for a long time. Mine baked for about 6 hours. Baking times will vary depending on how low your oven goes, and how your oven distributes heat. You will know when they are done when they are a toasty color and crunchy, not chewy. 
These would be great to make on a cold day when your house could use the heat from the oven being on all day, and your spirits could use a little tropical treat!