O
k, there are a few photos today… but while camping last weekend, the mister and I baked a cake over a bed of hot coals, and it came out so beautifully, I really wanted to share it with you.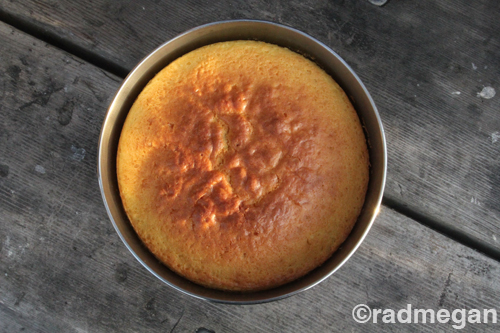 The only thing, is that it was a box mix. No magical recipe to share beyond "add eggs, oil, water, and elbow grease from mixing up the batter with a travel-sized whisk."
The only tricks I can offer are: 
1. Mix the batter near the smoke from your growing fire so that mosquitoes won't pester you or land in your dessert.
2. Be sure to pour the batter in a greased metal bowl or pan, and set that atop several rocks inside your dutch oven. Lifting the inner pan off the base of the dutch oven will bake your cake evenly and prevent burning.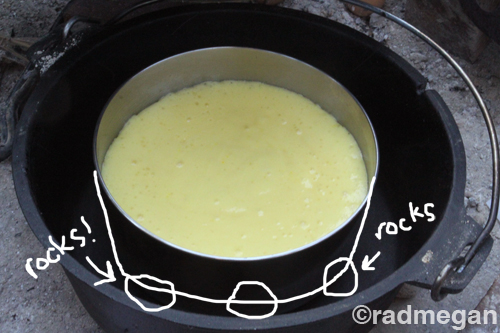 3. Put about as many coals on TOP of your dutch oven as you have under it, and rotate the base and lid of the dutch oven (in opposite directions) two or three times while the cake bakes.
We baked our cake for about 45 minutes, checking it with a bamboo skewer for doneness.
Even though it was "just a box mix" we were SO PROUD of our successful outdoor baking experience.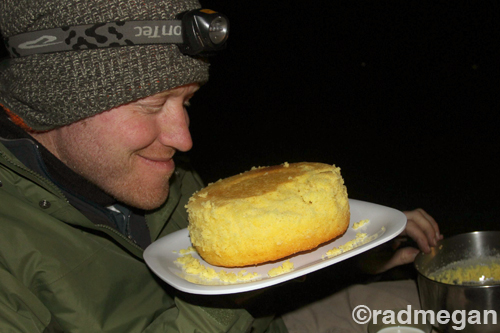 I would highly recommend picking up a dutch oven and trying some outdoor baking on your next camping trip! It's a really fun departure from hot dogs and roasted marshmallows!