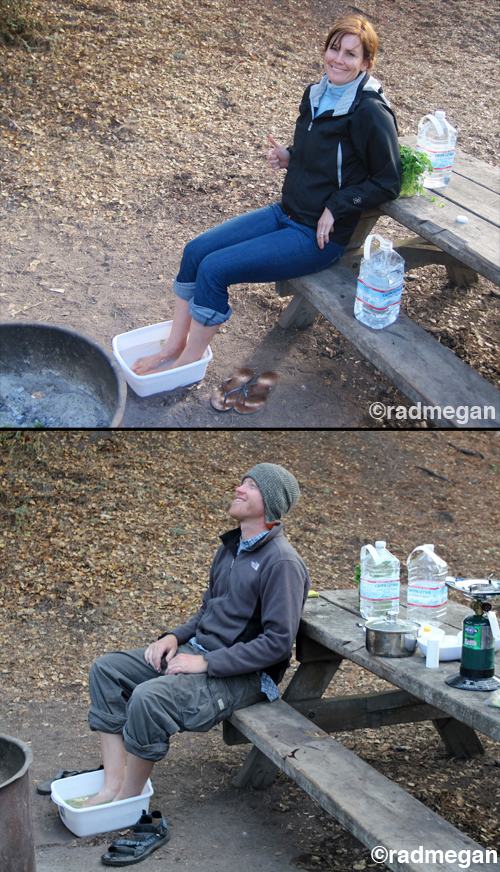 The weather was a cool 60 degrees (a very pleasant escape from the triple digits of Los Angeles) and was PERFECT for lots of hiking. After a 6.5-hour hike up a mountain peek and across vast stretches of beach dunes, we returned to camp in need of a little something for our aching feet.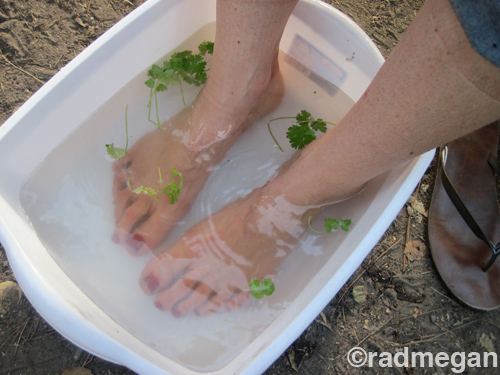 To create a soothing, fire-side spa treatment, we filled our dish-washing bin with hot water and a few sprigs of fresh cilantro, left over from the previous night's dinner. If you've never soaked your feet in a basin of hot water, while seated in a quiet, coastal, State Park, I highly recommend it. 
Adding fresh herbs like cilantro, basil, thyme, or even wild-growing sage and lavender* to hot water will release the natural oils from the herbs; perfuming the water (and your feet!) and will help soothe away the ache! 
We threw a couple of pieces of lemon in my husband's soak which smelled nice, but I would not recommend this if you have cuts or blisters on your tootsies.
Also, be sure to scrub out your basin thoroughly with soap and boiling water after soaking your feet and before you use it to wash the dinner dishes.
*And a friendly remember- do not collect plants like sage and lavender from National or State Parks.