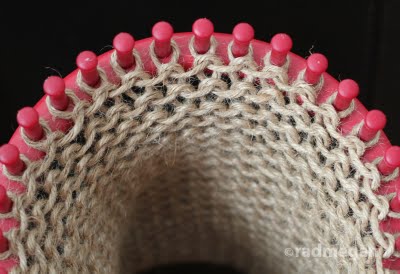 The first time I used my round loom for knitting, it was to make a collection of soft squishy 
beanies
for a few kids I love
.
 This time, I wanted to turn things around and knit a 
bag
 that I could use to hold my water, sunblock, and camera while out on a late-summer/early fall hike, or for collecting shells, driftwood and salty treasures at the beach.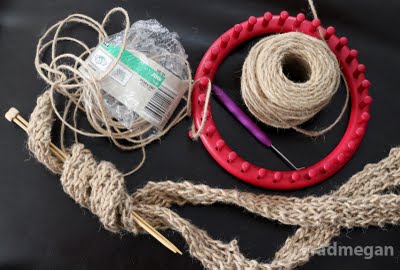 Since I'm on a budget, and wanted to knit a 

satchel

 durable enough to handle the great outdoors, I 
stole
 borrowed 2 bundles of jute cord from the garage, used my 8-inch diameter round loom, and 3.5mm straight bamboo knitting needles, and to complete my bag, I also used the plastic sewing needle that came with the loom kit, a wooden bead for my bag clasp, and a pair of scissors.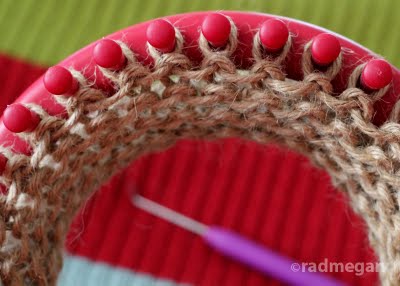 Casting onto straight needles is a bit different from casting onto a round loom. In my last loom-knitting post, I referenced these YouTube video for help 
casting on
 and 
casting 
off
 the loom. I still think they are extremely helpful if you have never cast on a loom before. Once you cast on the loom, you can basically keep on knitting until you reach the length of bag you want.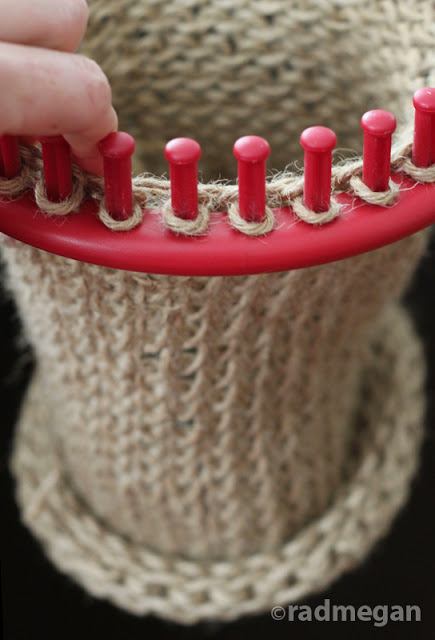 After knitting/purling about 30 rows, I cast off the loom, and set aside the now-finished sack portion of my purse.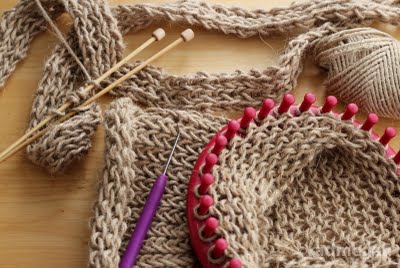 I grabbed my bamboo knitting needles, cast on 6 stitches (cast on more if you want a wider strap) and knitted until the strap was long enough to cover my torso (130 rows was my magic number- but keep in mind that I'm very tall, and like a super low-slung satchel.)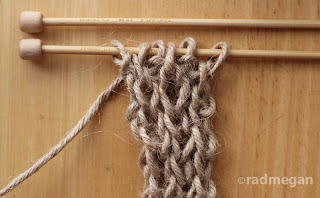 Once I had my strap done. I cast off the needles, and cast on another 16 stitches to make an outer flap for the bag, so that I could close and secure it. I knit/purled 12 rows, and dropped a stitch somewhere along the way (I'd like to say it was on purpose…) Since my little flap now had an open spot in the knitting, I grabbed a wooden bead that would fit through the hole, and decided to use my mistake as a make-shift button hole.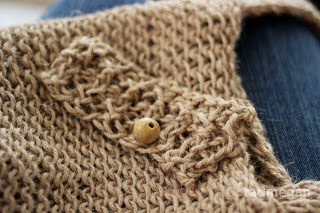 Using the plastic needle that came with the loom knitting kit, I used a few lengths of the extra jute fiber to attach the purse straps to the inside of the bag (if you find that your straps are too long, you can simply tuck more of your strap into the purse before you attaching it.  I also sewed my flap to the top of one side of my purses opening, and then sewed in the wooden button when I knew where the hole would line up. 
When my bag was complete, I was immediately pleased with it! It's sturdy enough with the jute fibers, that it can handle desert hikes, and beachy days, and since it's knitted, sand and dirt sift right out of this bag, and if I'm carrying a water-bottle with a lose cap, there's no problem if the bag gets a little wet!
I've already started my next outdoor bag out of cotton cord, since I like the durability of this bag so much. 
Perhaps I can come up with a design manly enough for my husband to want to wear one while we are out in the wild- so I won't have to carry his stuff too!