One of the many things I love about Yahoo's photo sharing website
flickr
, is the photographic journey through new and unfamiliar places, faces, and of course, food. At some point I wandered across a woman on flickr named
AnnaTheRed
who makes some of the most adorable bento boxes I have ever seen.
Bento is the practice of carefully arranging rice, meat and vegetables in small, single-portion containers. Kyaraben, or character bento, is the practice of forming cartoon characters, animals, plants and other recognizable shapes out of food.  This presentation can cleverly disguise food normally left untouched by small children.
After looking at hundreds of these Kyaraben online, my appetite had been whet. My husband and I were going camping over Labor Day weekend, so I decided our bento theme would be camping, and as this was my first attempt at the stylized Japanese food boxes, our Friday night dinner would be uncertain.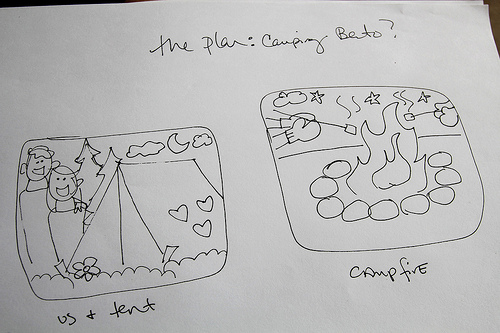 I realized quickly that I needed a plan. I began to sketch out two camping scenes that I thought would afford the opportunity for many different building materials, and would hopefully taste good together.
I started by cooking the rice and ground beef, which would serve as the foundations for both of my boxes. My building materials included:
Lean Ground Beef, cooked with Onion, Paprika, and Chili Powder
I found that I was far more successful cutting out tree shapes from lettuce with kitchen snips than I was a knife, and conversely, when I was cutting out the fire's flame from cheddar cheese, I had to keep the cheese very cold and then use a knife to get the desired shape. While there was some trial and error, and I did have to simplify my drawings quite a bit, I was pleased with the overall
outcome of the bento boxes.
From the sketches to the completion of the two boxes, the project took about 4 hours. Having a well-stocked cupboard and refrigerator was key to my success.  While I realize these are very rough as far as Kyaraben goes, I was proud, my husband was amazed* and I would hope that AnnaTheRed would approve.
Note: He was not only amazed at the designs, but that they actually tasted really good. He did refuse to eat the one that depicted the two of us camping… something about eating our faces did not sit well with him. I had no problem with it and chomped happily on our smiling, eggy faces.
For more photos from my bento box project, check out
my flickr set
.
To see AnnaTheRed's amazing creations, check out her
flickrstream
as well.