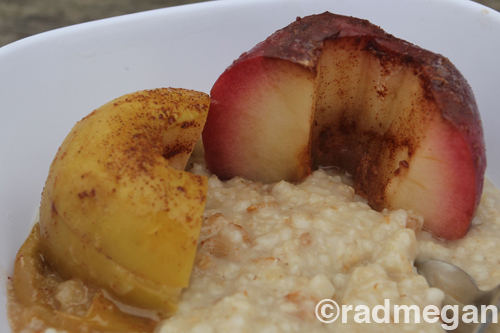 I really wanted to incorporate more fruit and veg in each meal, so when I proposed baked apples to top off our morning oats, I didn't realize how easy it would be to do while camping.
To bake your own apples over the campfire, you will need the following:
Apples of your choice (we used Red Delicious and Granny Smith)
I suggest starting your fire or lighting charcoals first so that they have time to get red hot while you prep the apples.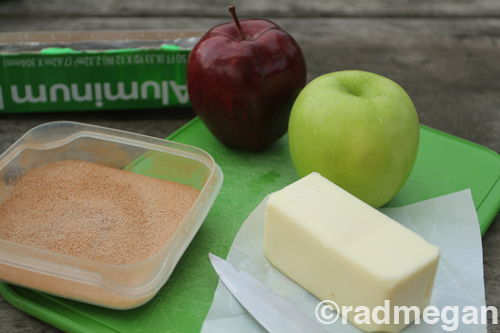 Core the apples and score the skin multiple times with the tip of a sharp knife. 
Place one apple on a sheet of foil, and with about a tablespoon of butter, completely coat the skin. Place the remaining pat of butter in the center cavity.
Sprinkle the cinnamon and sugar mix around the apple and into the center. Wrap the foil sheet around the fruit and give it a twist at the top.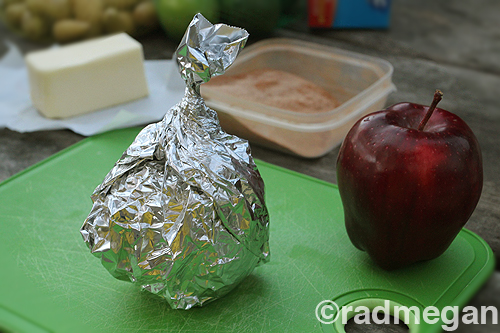 When your coals are red and glowing, they are ready to cook on. We started our apples on the coals of another meal, baking in our Dutch Oven. When the Dutch Oven came out of the fire pit, we set the apples straight onto a pile of glowing charcoals where they stayed for about 45 minutes. We turned them with metal tongs two or three times to ensure they would cook evenly.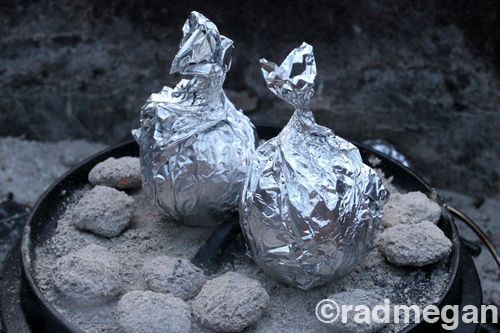 I want to mention that cooking directly in the flames of a fire is not going to work NEARLY as well as using coals (either charcoal briquettes, or the red glowing embers from a fire) these are both hotter and more consistent for cooking. 
We baked our apples on Friday night for breakfast on Saturday morning. One of the important things about camp cooking is time management. In the mornings we like to spring out of bed (depending on the outdoor temperature) and get our day started, so we personally don't like to spend a lot of time on breakfast.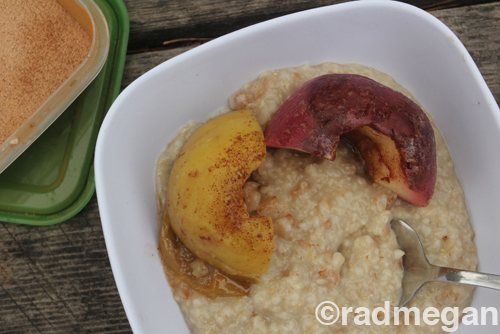 We warmed up our foil-wrapped apples in a saucer over a propane burner, and cut them up over a piping hot bowl of quick oats. Heating them up again took only a few minutes. Extra cinnamon and sugar was at the ready in case we needed a little extra boost of sweetness, but the apples were so beautifully cooked that the natural juices plus the trace amounts of butter and spices were all we needed to kick off a great day of hiking!
Putting together the ingredients for baked apples (or baking any other seasonal fruit) takes no more time than throwing a re-sealable box of sugar and cinnamon in the car along with the rest of your camping gear. With a few minutes of prep at dinnertime, you can have a hearty breakfast that tastes great, incorporates a subtly sweet dose of fruit, and sets the tone for a happy and healthy day outdoors!