Before 2005, I assumed vegans scavenged for wild berries in the forest, nibbled on tree bark and washed it all down with lawn clippings. I had no idea what they ate. Then I went to a Vegan/Raw Restaurant in Ventura that was so delicious I thought, "I could EASILY eat vegan food… at a restaurant." Making or baking a vegan dish (beyond carrot sticks) still seemed like more than I could handle, until recently. 


Last week, after I posted my pumpkin donut recipe, I got into a twitter convo with @admillerphoto who suggested I check out a specific recipe from the all-vegan website, Post Punk Kitchen. I was skeptical to say the least, but I am always up for a challenge so I went for it.


Let me just say, that these muffins were not only quick and easy to make, they happened to also be DELICIOUS. In fact, I brought them to a party and they were INHALED before the gourmet store-bought cupcakes were even touched. 


With that, I give you the VEGAN Post Punk Kitchen recipe for:
"The Best Pumpkin Muffins"


1 3/4 cups all-purpose flour

1 1/4 cups sugar

1 tablespoon baking powder

1/4 teaspoon salt

1 teaspoon ground cinnamon

1/2 teaspoon ground or freshly grated nutmeg

1/2 teaspoon ground ginger
1/4 teaspoon ground allspice

1/8 teaspoon ground cloves
1 cup pureed pumpkin (Fresh or from a can; do not use pumpkin pie mix)

1/2 cup soy milk
1/2 cup vegetable oil

2 tablespoons molasses


Preheat oven to 400°F. Lightly grease a twelve-muffin tin.


Sift together flour, sugar, baking powder, salt, and spices. In a separate bowl, whisk together pumpkin, soy milk, oil, and molasses. Pour the wet ingredients into the dry and mix.
Fill the muffin cups two-thirds full. Bake for 18 to 20 minutes, until a toothpick or knife inserted in the center comes out clean.


*Variation: Fold in a cup of either chopped fresh cranberries or chopped walnuts, or a mixture of the two. – I added a handful of chopped pecans and they were a fantastic addition.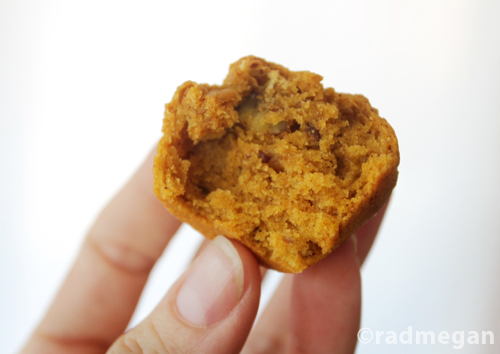 Enjoy! Vegans, vegetarians and omnivores alike! And thanks again to my friends on Twitter for inspiring me yet again!