This weekend seemed like it was over before it started. Nearly every minute was filled with crafting and cooking, yet somehow, I don't have a lot to show for the weekend as far as blogging goes, so I thought I'd do a round-up of the projects and events that kept me busy.
After meeting the awesome Aussies of Prints Charming on Friday night, I woke up on Saturday and made a big batch of rice crispy treats for a crafty birthday party I hosted that evening. Seven 12-year olds made wire tiaras, feather and yarn-wrapped barrettes, bead-encrusted headbands, and about a million yarn Pom-Poms that became necklaces, shoe accessories, ear muffs… you name it. The girls were a lot of fun, and it seemed like the birthday girl really enjoyed crafting with her pals at the Urban Craft Center. 
The next day, after a good long sleep, I woke up and baked my first ever batch of VEGAN muffins! They were crazy good, and I will share the recipe with you SOON! Seriously, I'm so not a Vegan, but these muffins… wow.
Then later that day, and for about 8 hours straight, I finished a project I'd been working on for my niece's wedding next weekend. I'd been asked to help make decorations ages ago. Quite honestly, this wedding garland took upwards of 40 hours to make, and while I'm so happy it looks adorable for her, I frankly cannot wait for it to be out of my house. I've been making pom-poms FOR MONTHS! Ha! GET OUT already!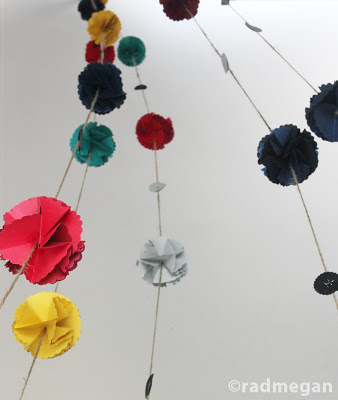 I'm on my way out the door to host another crafty birthday today (with a Project Runway theme no less!) and then it's back to the grind for me- which will include trying to repair two Halloween craft FAILS that have been haunting me for over a week now! I need closure on these two craft ASAP! Wish me luck. 


Hope you all had a productive and satisfying weekend!