These little pom-poms turkeys are a super fun way to get in the holiday spirit and are crazy easy to make! Whether you scatter them around your table centerpiece or use them to hold place cards during the big feast, they are a craft your kids will gobble up. Get it?! Of course you do…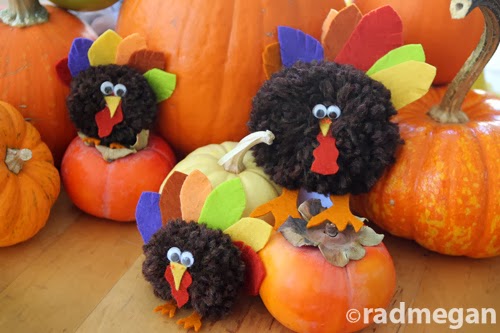 For Halloween, I'd made a bunch of brown pom-poms for a niece who needed a removable beard (naturally…)
Now that we're on the fast-track to Turkey-day, I wanted to make our home feel more festive. I snatched up a few of the brown pom-poms, some of my wool felt from PurlSoHo, Tacky glue, googly eyes, needle and thread a toothpick and sharp pair of scissors and got to crafting.
I sliced up a few different colors of felt, trimmed the pom-pom to a uniform ball shape, and then stitched the fanned out felt pieces to the brown body.
I trimmed the fanned out felt pieced into a tapered feather shape, and then snipped each one to give it a feathery look.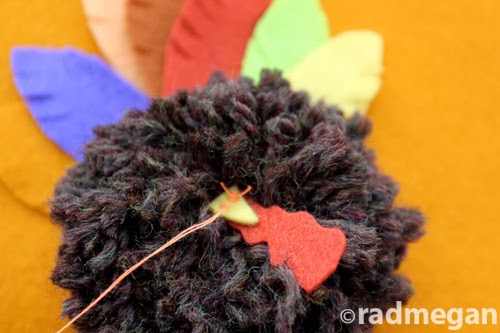 I took a red and yellow scrap to make the beak and gobble, and stitched it through the center of the pom-pom.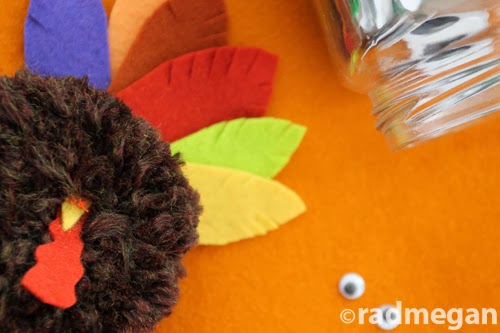 I trimmed the "face" of the pom-pom down a bit so that I would have a semi-flat surface to glue the eyes to, then used the Tacky glue and toothpick to attach the eyes. 
With another scrap of gold. I out some feet, and glued those to the bottom of the pom-pom (which I also trimmed a bit so that it would sit flat.)
Easy peasy turkey squeezy! Each one has such a funny little personality. 
Hope you and yours have a happy Thanksgiving this year!