Growing up as the child of two elementary school teachers meant I always had to do my homework AND have my mom check it before I could play, that if I ever screwed around in class my dad would get a call, and it also meant that my sister and I had access to more children's books than I knew existed. My parents would fork over hefty chunks of their paychecks to make sure their classroom kids, and their own flesh and blood kids had libraries overflowing with brightly illustrated stories that kept our little minds active and happy.
One such author was recently in Los Angeles showing his original 1970's work, along side five contemporary artists who were greatly influenced by him.
Scion Presents: Ed Emberley and Friends from Scion ART on Vimeo.
Ed Emberley has written and illustrated over 80 books. As I missed the show completely, I arranged a tribute of my own with my nieces and nephew. We pulled out the stamp pads and pens in honor of his 1977 book,
Ed Emberley's Great Thumbprint Drawing Book
.
I rolled up my sleeves, put paper down on the kitchen table, and pressed my thumb into the ink to show the little ones what we were doing.
Whether it was that they were happy to be making gifts of stationery for their parents, or just that they were thrilled to be allowed, and encouraged to get dirty, all three kids tackled the craft thoughtfully, and with lots of focus and care.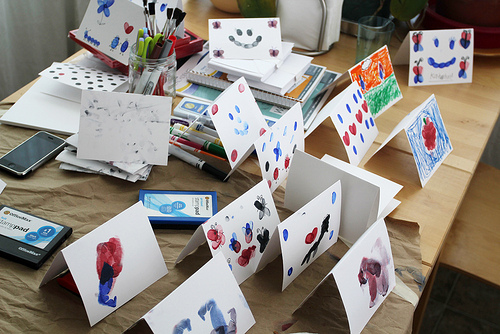 For hours of fun without the mess, Ed Emberley has dozens of downloadable crafts and activities on super cute 
website
.