Chances are that while you're read this, I'm in a mini-van with my sister-n-law and four children cruising through the hottest part of California to attend a wedding shower for one of my nieces. The big event is in October, and her color palette is chock-full of fab autumn colors. Being the crafty aunt I am, I volunteered to make a few garland prototypes. She can choose her fave, and I'll make the rest to hang at the reception. 
We both agree that the look of a fabric pom-pom (like the one I made here) is to-die-for. But guess what. ONE fabric pom-pom uses almost A YARD OF FABRIC to make! Crazy. I experimented with smaller, hand-sewn pom-poms that used less fabric, but when one sister-in-law said they resembled "used tissues" I got a bit flustered with fabric, and moved on to my old friend, paper. 
Using a 3 1/2 inch diameter scalloped punch, I quickly cut circles out of some fall-colored paper I'd picked up at Michael's. (Cutting the 
fabric
 took FOREVER by the way.) 
I folded the circles in half, and half again. I then opened the folded circles so that the creases were visible. I squished all four sides, so that the circle resembled a square, and then pressed two opposing sides together. (What?! Photos below… )

Using quick-drying Elmer's glue, I glued 5 of the pieces together to make a circle (see 8th image from top.) Then I glued in two more folded pieces on each side of my paper circle, and held the whole thing together with wooden clothes pins until the glue set.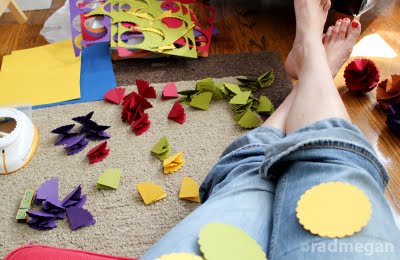 Each paper pom-pom uses 9 round, and takes about 5-minutes to make from start to finish. I completed 9 paper pom-poms, and ran a needle and thread through the set to see how they looked. Just about as adorable as the fabric pom-pom in my opinion…
But I am bringing all of my fabric attempts, and the dainty needle-felted heart garland I also made (seen here above the paper pom-poms) but ultimately, it's up to my niece… keep ya posted on what she likes best! (And PS- If she doesn't love the paper pom-poms, they will be strung above my couch on a permanent basis! I'm love how her colors match my circa 2001 Ikea blanket!