Ok! JUST in time for Halloween, I'm back on

etsy

with a new batch of knitting forks! My shop was on vacation mode for a few (6) months, but is open again. It's only stocked with two products (my knitting forks and my wall-mounted succulent garden pattern.) So for those of you who emailed me while I was offline, go and buy them now please! 
For those of you who already have a knitting fork (also known as a lucet), or are on the fence about buying one, I've put together this spooky DIY Spider Web project for your Halloween decorating.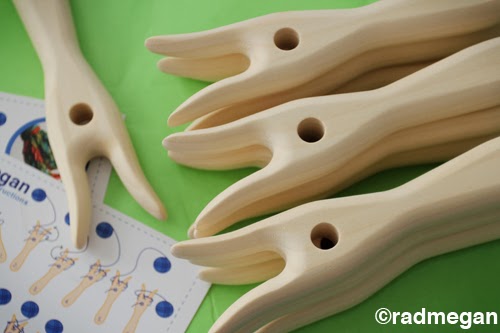 To make a spooky spiderweb you will need a radmegan knitting fork, a ball of white yarn, a pair of scissors, and the video below. 
Using the knitting style shown in the video, I made several chains with the white yarn. Relative to the space that I wanted to put my spiderweb in, I made three chains that increased in size (my chains ranged from 5 inches to 20+ inches). I left the string ends on all of my chains, so that I could either tie the ends together to make the spirals of the web, or to tie the anchor threads of the web to my front porch posts.
After I had my three "spiral web" pieces, and a handful of anchor thread pieces in a variety sizes, I was ready to assemble the web.
I wove the anchor thread pieces through the center of the "spiral web" pieces until I reached the center. I did not penetrate the center ring, but instead, tied each anchor thread to it. 
Once all of the anchor threads were woven into the three spirals and attached to the center ring, I took the web outside to the porch so that I could make adjustments according to the environment. 
I ended up re-weaving one anchor piece so that the web looked like it was more random, and web-like.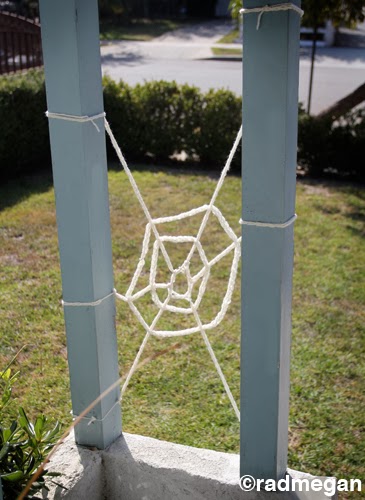 Tomorrow, I think I will need to make a spider for my web!