On New Year's eve, a neighbor brought us a plate of authentic, homemade pupusas to try. We devoured the plate, and the next morning, I got up early and set out to make pupusas with curtido at home. Pupusas are an El Salvadorian dish. They resemble chubby corn tortillas stuffed with a variety of delicious fillings. Curtido, is the spicy, pickled cabbage "slaw" traditionally served with Pupusas. 
Making the pupusas is as easy as adding the appropriate amount of

masa

(corn flower) to water. The masa bag I had at home had clearly marked proportions on the back. I also referenced

THIS video

to get the technique down. My filling was some left-over pork tenderloin, jalapeño peppers, and feta cheese. On an oiled griddle over medium/high heat, I fried them for about 4 minutes on each side. (Or- until you get a little color on both sides.) Other delicious filling options  include mozzarella cheese, or feta cheese with

Loroco

flowers or (if you don't have a Hispanic market near you) green bell peppers.
The curtido really added pop to the pupusas. Here's how we made ours…
1 head shredded green cabbage
1 red onion, thinly sliced 
1 Jalapeño chile pepper, minced (depending on how much heat you like)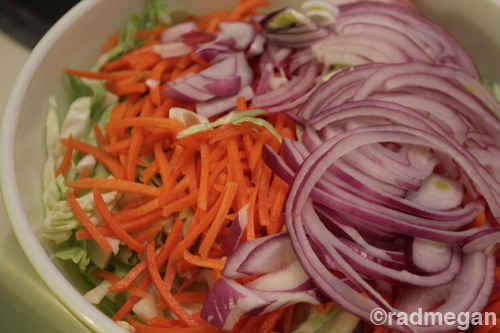 Place the cabbage and carrots in a large heat-proof bowl. 
Pour the boiling water into the bowl to cover the cabbage and carrots and set aside for about 5 minutes. 
Drain in a colander, pressing out as much liquid as possible.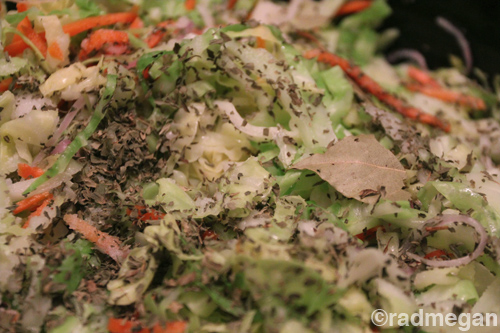 Return the cabbage and carrots to the bowl and toss with the remaining of the ingredients. 
(Note, we used apple cider vinegar AND white vinegar, since it was a spur of the moment recipe and we didn't have enough of just one type of vinegar!)
We placed our curtido into a 1/2 gallon Ball Jar for easy fridge storage, and then let it set at room temperature. You can let it set up for a few hours, but we were impatience, and waited only a few minutes before dishing it up!
Store the curtido in the refrigerator, and serve chilled with hot, fresh pupusas! 
Note that since making our first batch on New Year's Eve, we've made them several times using a variety of fillings!