This is a mini pumpkin pie. It's baked in a mini pumpkin and topped with whipped cream. This is the best thing you can possibly do to left over mini-pumpkins from Halloween. Why am I posing about this now? Because this is a rad thing to bring to your coworkers at work, a holiday party, or your family's Christmas dinner.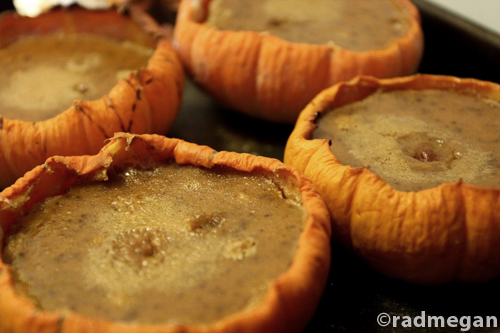 They may not look like much in this light, but they are DELIGHTFUL.
To bake your own mini pumpkin pies you will need:
Many mini pumpkins and ramekins (to bake any remaining mix)
1 1/2 cup granulated sugar
2 teaspoon ground cinnamon 
1/2 teaspoon ground cloves 
1 (29 ounce) can Libby's 100% pumpkin puree
2 (12 ounce) can Carnation Evaporated Milk
12 mini pumpkins or small ramekin containers

Preheat oven to 425 degrees Fahrenheit.
Using your carving tool, cut the tops off of your mini pumpkins. Then, carve out as much of the seeds and pumpkin meat as you can with the melon baller. Set the pumpkin meat aside for another recipe. 

Mix sugar, salt, cinnamon, ginger, and cloves in small bowl. Beat eggs in large bowl. 
Stir in pumpkin and sugar-spice mixture. Gradually stir in evaporated milk.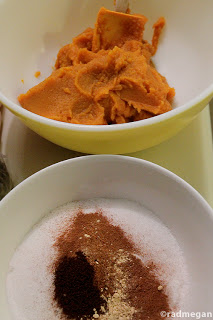 Pour the mixture into the carved pie shells. Pour any remaining mix into the ramekins. Arrange your shells and ramekins onto a cookie sheet and add a quarter cup of water to the cookie sheet.
Bake at 425 degrees Fahrenheit for 15 minutes. Then, reduce the temperature to 350 degrees Fahrenheit and bake for 40 to 50 minutes or until knife inserted near center comes out clean.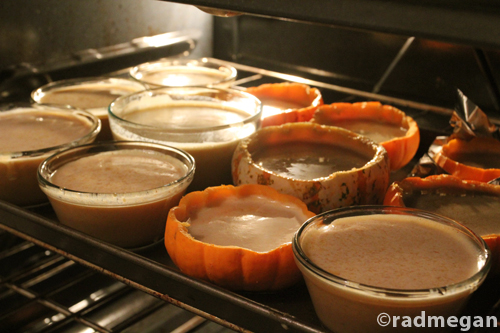 Cool on wire rack. While the pies are cooling, add about a cup of whipping cream, teaspoon of vanilla and tablespoon of sugar together until you have stiff peaks. 

Dollop the whipped cream onto the pies and serve immediately. Or, if not eating immediately, leave the cream off the pies, and keep everything refrigerated until ready.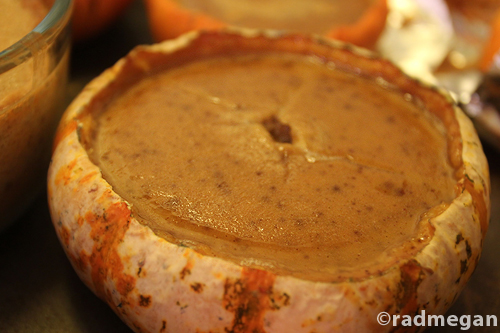 Your friends, co-workers and family will be tickled. Even though these pies are missing a traditional crust, 

there is something about being handed a mini pumpkin or an individual ramekin of pie (all for you!!) that is very special.
And you will feel pretty pleased when you see people scraping the bottoms of their pumpkin shells (which have baked and are indeed edible on the insides!) for every last morsel! 


Hope you enjoy! Happy holidays!