It's just a couple of days before Thanksgiving which means, it's pie time! This weekend while at the grocery store, I danced in the isles when I saw that eggnog is finally available again! 
I decided I needed to make an eggnog pie. 
I toyed with the idea of custards and cream bases for my "Nog pie", and then stumbled across something called a "Hoosier Sugar Cream Pie." After reading recipes provided by Country Living Magazine and Paula Deen, I knew I was in for  something rich and creamy… The perfect starting point for my Eggnog pie!
Eggnog Pie
1/2 cup All-Purpose Flour
3 tablespoon Granulated Sugar, for sprinkling
1 teaspoon Vanilla Extract
1 tablespoon Unsalted Butter
1 teaspoon Ground Cinnamon
Preheat oven to 350 degrees. In a medium bowl, combine heavy cream, eggnog, flour, brown sugar, 1/2 cup granulated sugar, milk and vanilla.
Fit your pie crust into a 9-inch pie pan and dot the bottom with butter. Pour filling into crust. 
Combine cinnamon and remaining 3 tablespoons sugar and sprinkle on top. Bake pie until set and center is firm to touch, about 1 hour. Cool on a wire rack.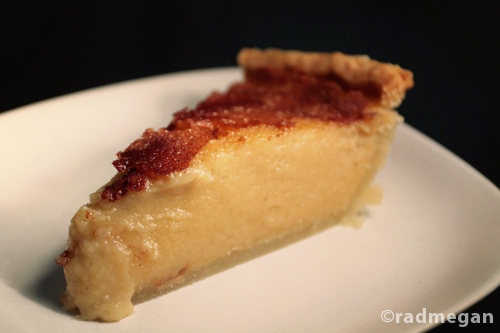 Just so you know, this pie is a SNAP to put together. It's kind of a perfect dessert because you can throw it together and bake it before company comes over and then just let it sit in a cool window or in the fridge to chill while you enjoy dinner. Serve with coffee or hot tea. It's soooo low maintenance. 
And soooo good! The eggnog flavor is subtle, but really tasty. I used a store-bought crust and while it was fine (are store-bought crusts ever more than just fine?), I think next time I make this pie, I will make a graham cracker crust instead- just to have a little more texture in the bottom of the pie.