Do you ever get obsessed with the idea of making something at home (a recipe or craft) and you KNOW it will take a million times longer to make it from scratch, than if you just bought it, but you hunker down and make it anyway? Most of the time I can tell these obsessions to quiet down.. but occasionally (marshmallows, and ginger chews anyone?) an idea pops into my head, sets up camp, and stays there until I see the project out. This week, my obsession was with pumpkin donuts. 
Have I ever tasted a pumpkin donut before? No. But don't they sound yummy? AND I grew SEVEN pumpkins in my garden this year, so using a couple of mini pumpkins instead of canned pumpkin… well, sure it ADDS a ton of work and time to the recipe, but it somehow makes me feel like the donuts are healthy… you know, because they came from MY garden. 
I wasn't the one who thought pumpkin donuts would be incredible. After a little internetting, I found a recipe on epicurious that looked delicious. It also looked like it used every item in my pantry…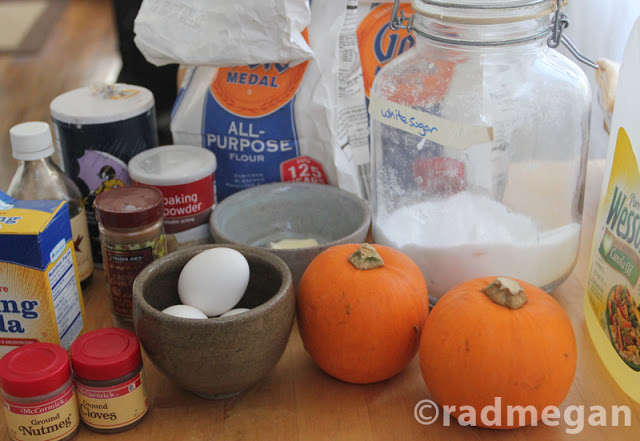 Here it is…
Pumpkin Donuts:
3 1/2 cups all purpose flour
4 teaspoons baking powder
1 teaspoon salt
1 teaspoon ground cinnamon
1/2 teaspoon ground ginger
1/2 teaspoon baking soda
1/4 teaspoon ground nutmeg
1/8 teaspoon ground cloves
1 cup sugar
3 tablespoons unsalted butter, room temperature
1 large egg
2 large egg yolks
1 teaspoon vanilla extract
1/2 cup plus 1 tablespoon buttermilk
1 cup canned pure pumpkin
Canola oil (for deep-frying)
Spiced Sugar Topping:
1 cup sugar
4 teaspoons ground cinnamon

2 teaspoons ground nutmeg
The epicurious recipe called for one cup canned pumpkin… but since I had two home-grown Baby Pam Sugar Pies,

 

I HAD to use them. I washed and peeled off the skin, and baked them in the oven, (drizzled with just a little olive oil) at 400 degrees until soft. (about 35 minutes)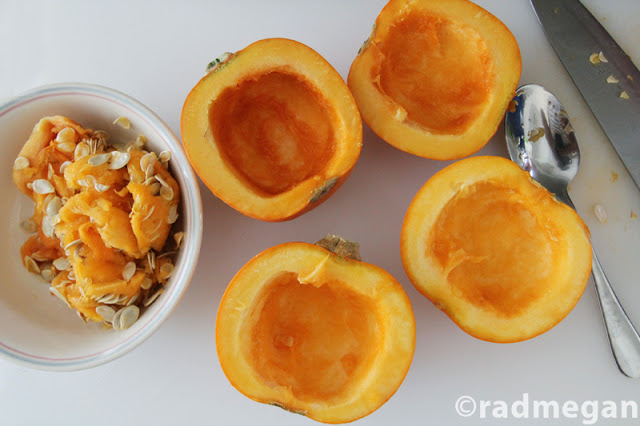 Then I mashed them with a potato masher. Presto! Nearly an hour later I had the fresh version of canned pumpkin. 


Next up, I whisked first 8 ingredients (flour, baking powder, salt, ground cinnamon, ground ginger, baking soda, ground nutmeg and ground cloves) in medium bowl. I beat the sugar and butter in a large bowl until blended (mixture was grainy). I beat in the egg, then yolks and vanilla. Then, I gradually beat in buttermilk; beating in pumpkin in 4 additions. 


Then, I covered with plastic and chilled the bowl in the refrigerator for 3 hours!


When the three hours are up, sprinkle 2 rimmed baking sheets with flour. Press out 1/3 of dough on floured surface to 1/2- to 2/3-inch thickness. Using 2 1/2-inch-diameter round cutter (I only had a 2-inch), cut out the dough rounds. Arrange on sheets. Repeat with remaining dough in 2 more batches. Press out dough and cut out more dough rounds until all dough is used.
Using 1-inch-diameter round cutter or shot glass, cut out center of each dough round to make donuts and donut holes.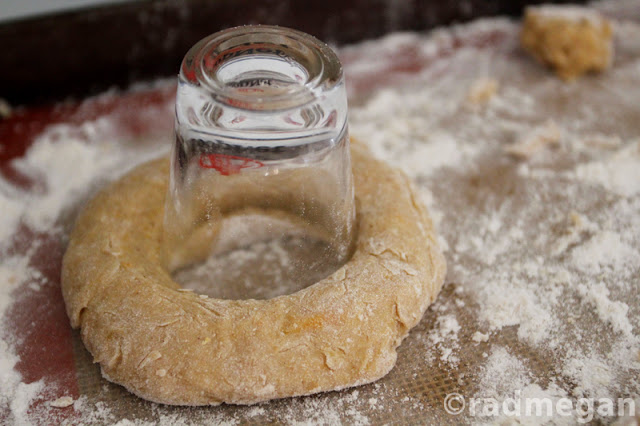 I found that the dough was pretty sticky, and while the recipe originally called for "lightly floured" baking sheets, I was thankful that I had been heavy-handed with my flour.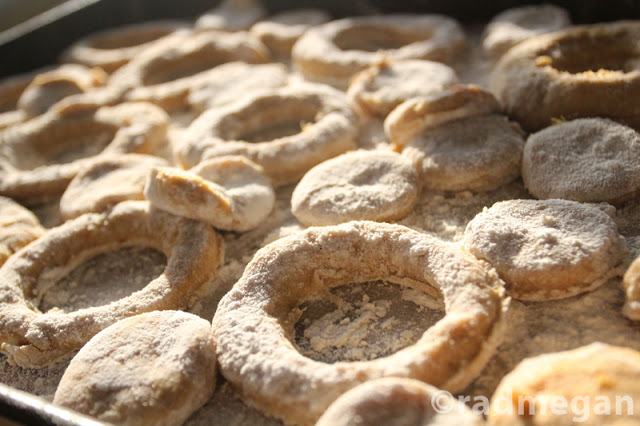 Line 2 cooling racks with several layers of paper towels. Pour oil into large deep skillet to depth of 1 1/2 inches. Attach deep-fry thermometer and heat oil to 365°F to 370°F. Fry donut holes in 2 batches until golden brown, turning occasionally, about 2 minutes. 


Using slotted spoon, transfer to paper towels to drain. Fry donuts, 3 or 4 at a time, until golden brown, adjusting heat to maintain temperature, about 1 minute per side. 


Transfer donuts and donut holes (again, with the slotted spoon) to paper towels to drain. Cool completely.


Whisk all ingredients spiced sugar ingredients together in medium bowl.
Add donut holes to bowl of spiced sugar and toss to coat. 
FYI, there was a glaze recipe for the donuts, but I opted to leave my donut holes sugared, and my donut RINGS, plain… I really wanted to taste the pumpkin. 


This recipe took a long time, what with the homemade pumpkin, and the batch frying (I move slowly and cautiously around a boiling cauldron of oil). But the recipe satiated my obsession for pumpkin donuts, and it really pleased all of the friends and family I shared them with.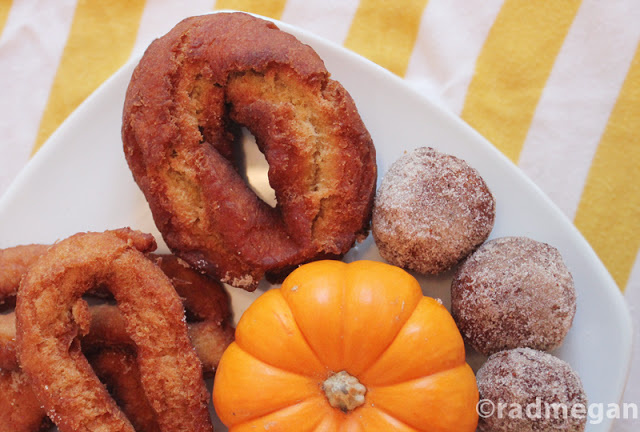 And I do still have five Baby Bear and Autumn Gold pumpkins in the garden… I'm looking forward to more garden-fresh pumpkin recipes!