There is a distinct possibility that I have been watching too much Say Yes to the Dress lately. I'm not sure why this keeps happening. I'm already married and never watched the show while I was engaged, but in early December I noticed several seasons of SYTTD on Netflix, and since then, I've watched it nightly. 
With so much exposure to dresses in every imaginable shape, style, and price, it got me thinking about how a crafty bride might save a few bucks on accents and accessories for her wedding. 


When I married my sweet husband, we eloped. I bought a dress online and on sale for a hundred dollars. I had it altered for thirty, and that was that. Aside from having our friends and family there to share the fun, the only other thing that I would have done differently, had we opted for the traditional da-dum-da-dummmm-style wedding, would have been to hand-make it. (The wedding, not the dress.) I like the idea of a wedding with lots of personal touches, and a few frayed edges. Words like, "re-purposed", "garden-grown" and "saved enough money to buy a house" appeal to me far more than words like "princess", "crinoline" and "overdraft". So while watching a new (to me) re-run of you know what, I began to slice up the discarded newspaper from last week, to make a few boutonniere flowers that I would have welcomed at our small ceremony.
Paper flowers are not for an outdoor wedding with a chance of rain. Let's just get that out of the way now. BUT, for a couple who loves to read, is on a budget, or are just friends of the earth and big on recycling, recycled newspaper flowers are kind of a perfect touch. They are also cute and fun to make.


Here's what you will need for newspaper boutonnieres:
Weekend Newspaper

Sharp scissors

Florist's tape

Tacky Glue

Assorted beads and buttons

Sewing Pins (in a variety of colors)



Start with the Sunday newspaper. It usually has lots of colorful ads, photos and features. With your scissors, make small, parallel cuts down the long-sides of the paper. Cut uniform "teeth" down the length of the paper. Next, cut your newspaper perpendicular to the teeth, leaving about an inch of space between the teeth, and where you start cutting. When you have cut the piece of newspaper completely, it should resemble a comb.  


Next, cut another strip of newspaper about one inch by 5-12 inches long depending on how deep your "teeth" cuts are. Deeper cuts make bigger flowers and require a longer center. Then, fold that long paper strip in half (length wise). This will be the center of our flowers.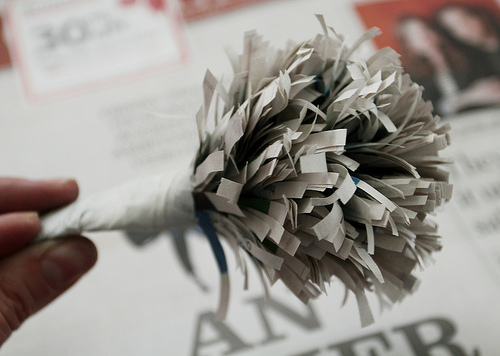 Take one end of the snipped newspaper (the comb-shape), and wrap the paper, with the most colorful paper "teeth" wrapping in on themselves, around the paper center. Wrap three or four times, and secure with floral tape. Locate the center-fold, and with your thumb, gently press the "teeth" now known as, "petals" open.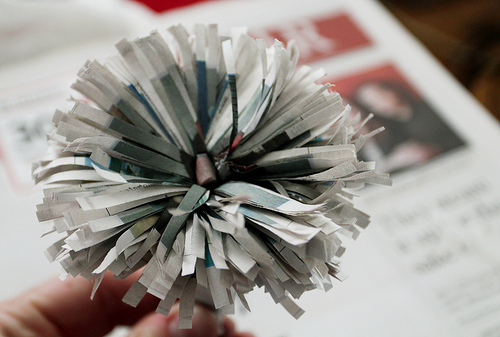 Select a button or bead to your liking and tacky glue it to the center of the flower- with the hole of the bead facing straight up. Now insert the sewing pin into the hole, to secure the bead, and further stabilize the flower. If the pin pokes through the floral tape, take another piece of tape, and wrap it around to ensure that no newspaper stems are showing, or unwanted pin tips.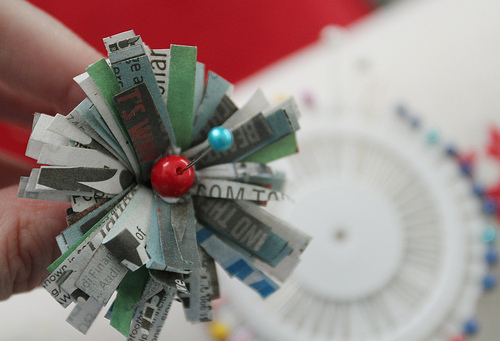 Let the glue dry, and with a florists pin (or sewing pins) attach the boutonniere to the handsome groom, or crafty bride.  The possibilities are endless with these flowers. Wear them in your hair, string them up as a garland, or arrange them in a vase. They are so cheery, lightweight, and fun for any occasion. Even if it's just watching SYTTD in your hundred-dollar wedding gown while eating lunch…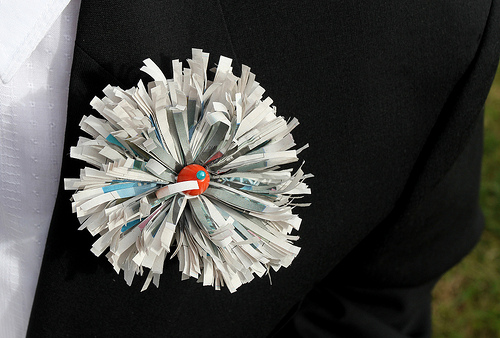 I happen to know a handful of lovely girls who are engaged right now, and if any of you are reading today, I have a list of other wedding crafts I've been rolling around in my head- including a tutorial on boutonniere and bouquets with real flowers. Stay tuned for more my friends…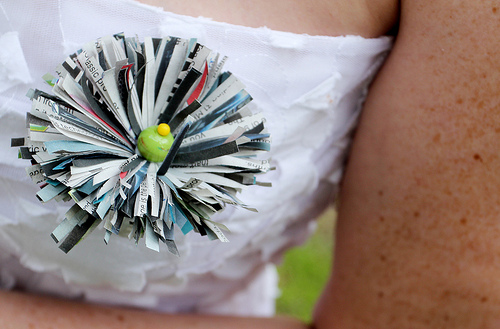 And to the rest of you, thanks, as always for reading. The comments are always a treat to read, and I appreciate them always.