Lately, the Mister and I have been hitting up our local junkyards for VW Vanagon parts. No small task, since Vanagon's are cult classics and rarely "junked". Still it's fun looking and exploring. I've really enjoyed learning how to disassemble/reassemble cars, but I think I enjoy treasure hunting just a little bit more. I'm going to try very hard not to become a crazy "junk collector" who has 10 years worth of National Geographic, and 5lbs of twist ties in a bag in the garage "just in case". No thank you. 
But some things just
need
to come home with you right? How can you not love a happy* little metal door latch??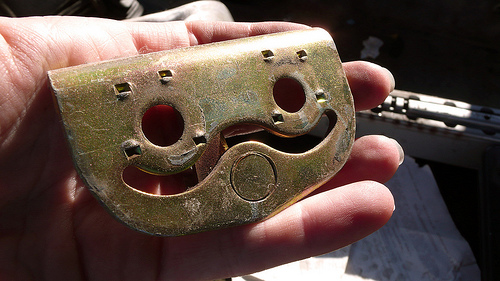 * On the way home from the junkyard, I did take into consideration that my door latch was smiling because he LOVED living in the junkyard with his metallic friends. A panic ran through me, but his smile has not changed into a look of concern, worry, or disappointment YET, so perhaps my apartment *IS* a suitable home for him. Woops, I think I smell the crazy brewing…