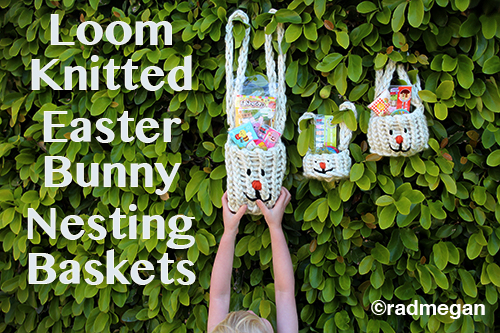 Friends! I just finished making three loom knitted easter bunny nesting baskets and I'm LOVING them. I used Bernat Mega Bulky yarn in Aran, three Boye circle looms in three different sizes, and some scraps of black and orange (Softee Chunky in Pumpkin) with my trusty yarn needle to create the bunny basket family.

These baskets are a variation on a basic loom knitted hat. I knitted about 28 rows for the large bunny, 20 rows for the medium bunny, and 12 for the smallest bunny. Even though my yarn was chunky, I had planned on folding the knitted tube over itself for more structure. (Resulting in baskets that are 14 rows high, 10 rows high and 6 rows high, respectively.  Instead of finishing the basic hat design by synching the top, I cut a long tail of yarn, and wove it through each of the "e" loops on my loom, before removing them. When I removed the knitted "tube", I wove the remaining long tail of yarn back and forth through the "bottom" of the basket, so that it would sit flat. I knotted the yarn and wove the ends into the folded basket body.
The bunny ears/basket handles are made with the same Bernat Mega Bulky yarn. I used two fingers to finger knit long pairs of matching cord, but you could also use your lucet or knitting fork and this radmegan video to make cords for the basket handle ears. I knotted both ends of the cord along the top lip of the basket and wove the ends into the folded basket body.
The faces are made by threading a yarn needle and stitching black eyes and a mouth and a little orange nose into each face.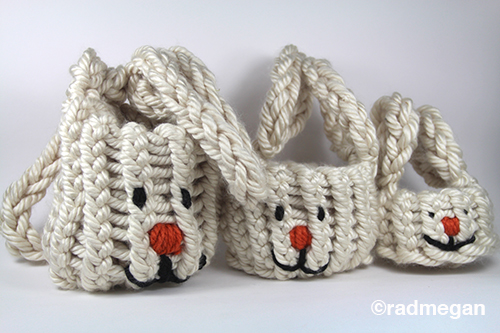 My son was OVERJOYED when he saw his bunny basket. All three nesting baskets took about two nights to make. Note that my two nights, may be your coffee break- it all depends on how often we get interrupted, right? Anyway, hope you enjoy!!
P.S. I took zero process shots of this- so if you are genuinely interested in making these baskets, please comment and if there's enough interest, I'll make more, shoot some pix and write up the pattern.
Hoppy Easter.