I don't know what you think about in the middle of the night, but I think about food. Lately, I've been missing the sushi joint in my old 'hood. I may have spent so many sleepless nights obsessing over my favorite rolls that cut yarn started to resemble rice. It seemed inevitable that I'd end up making sushi roll pom-poms that look like tuna rolls, as well as my beloved salmon, avocado and cucumber rolls, right? The heart wants, what the heart wants. #sushiemoji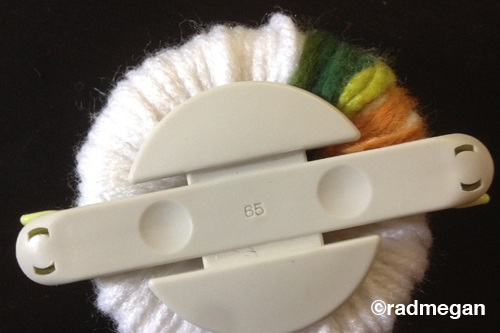 I started by wrapping one side of a large pom-pom maker in medium, white, acrylic, Caron United yarn. On the other side of the pom-pom maker, I used the same white yarn, but only wrapped 2/3 of the pom-pom maker. The remaining 1/3 of the pom pom maker was wrapped in scrap yarn. I found a soft orange, wool yarn to use as the salmon. I pulled 2 or 3 strands of white yarn into the orange to mimic the fat in the salmon. Then I found two different greens, one lime colored and one more forrest green, and added a few wraps of both to give the pom pom an avocado and cucumber nod.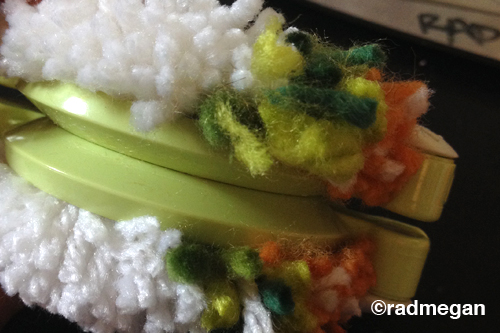 I used my sharpest scissors and snipped along the the pom-pom maker's gutter.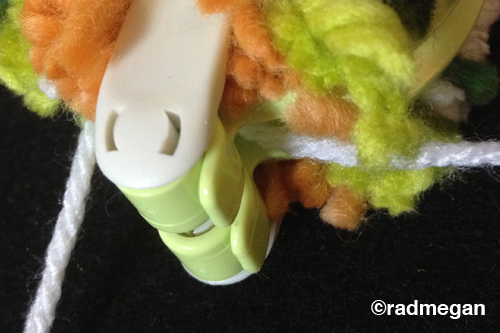 Then, I tied a long piece of yarn around the snipped yarn and knotted it tightly.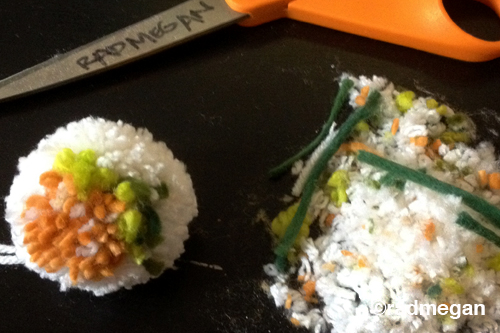 I trimmed the pom-pom way down, and pulled at various pieces of yarn in the process to perfect the positioning of the "avocado" and "cucumber."


Then I grabbed a long length of black, wool felt and used my Fabric Fusion glue to secure the black felt around the pom-pom, sushi side up!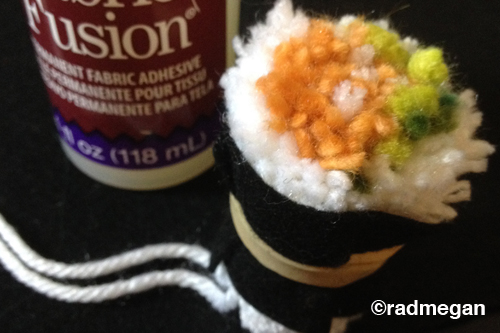 I wrapped a rubber band around the pom-pom until the glue had dried and the pom-pom was secure inside the wool felt strip.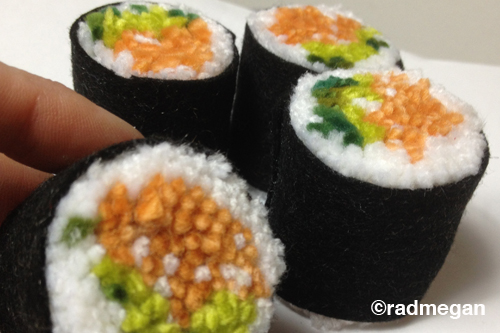 After removing the rubber band, I trimmed the "top" of the sushi roll with my sharp scissors so that they were flat. Then I made a full serving of salmon, avocado and cucumber rolls! OMG SO CUTE NOM NOM!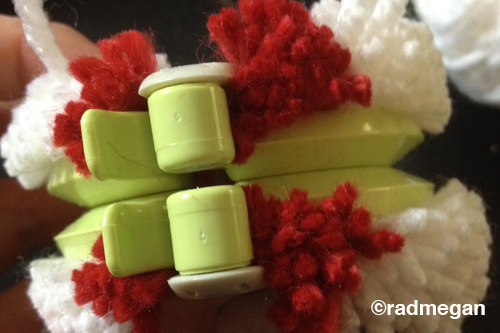 Always needing a little variety, I whipped up a second batch of sushi-roll pom-poms, in "tuna" flavor. These were much quicker to make, as I was only using red and white yarn.

I was TOTALLY happy with the results. Except that when I look at them I get super hungry. I am going to use these as gift toppers for my friends and loved ones. They are really quick and really fun.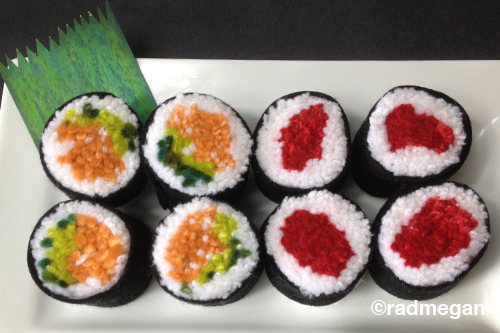 For the record, I still haven't found a great sushi place in my NEW neighborhood, but that's called being a busy mom and crafter, people, NOT agoraphobia, duh!