We're looking at 8 days until the due date of our first baby! With the onesies washed and organized, car seat installed, and hospital bag packed, my new area of focus is FOOD. What on earth can I make/assemble/re-heat while in recovery mode. Fortunately, we have some seriously gifted and generous family offering help, but this morning, I decided to roast a batch of cherry tomatoes to have handy when mama needs a boost of vitamins.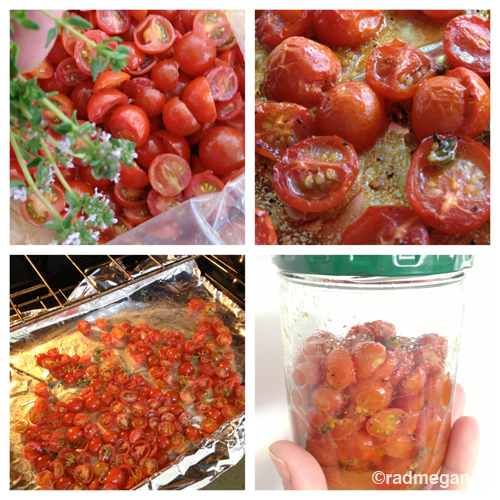 Roasting tomatoes is super easy, quick and makes salads, pizzas and sandwiches THAT much tastier. Plus, it's a great way to make your toms last longer when you get a bumper crop. 
Here's how I roasted mine:
– Wash and dry

the

cherry tomatoes
– Slice them in half and toss them in a large Zip-lock bag.
– Drizzle

about 3 tablespoons of olive oil per 3 cups of chopped fresh tomatoes.
– Grind sea salt to taste in

to the bag
– Add a large handful of fresh thyme (chopped) into the bag.

 
(rosemary, basil

and

garlic are all welcome in this mix if you have them

on-hand)
– Seal the bag and give it a few sha

kes to coat the tomatoes in the oil and herb mix.
– In a 300 degree oven, spread the tomatoes onto a lined (foil or Silpat), rimmed baking s

heet
– Store in a jar in the fridge (if you don't gobble them up right off the

cookie sheet first!)

Enjoy!!