I don't remember the last time I slept through the night without waking up at 4am. Insomnia can be a major bummer, but it's given me a lot of time to research recipes. This morning, I stumbled upon Dutch Pancakes.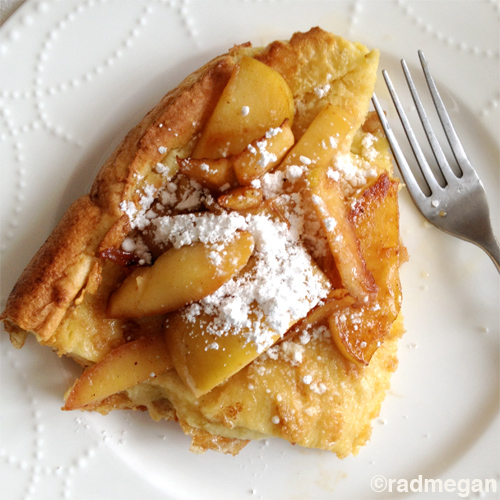 Dutch pancakes might be known to you as Dutch Babies, or German pancakes. I also have a Viking cookbook that just calls them regular ol', pancakes. Anyway you slice it, these things are DEEEELISH. I used 

THIS

recipe on

Allrecipes.com

which, even on my iPhone was quite handy because you can alter the serving size you want, and all of the quantities would automatically update. For the sake of ease, here's the recipe:

1/2 cup sifted all-purpose flour

2 tablespoons confectioners' sugar for dusting
Place a 10-inch cast iron skillet in the oven and preheat to 475 degrees F.
In a medium bowl, beat eggs with a whisk until light. Add milk and stir. Gradually whisk in flour, nutmeg and salt.
Remove skillet from oven and reduce oven heat to 425 degrees F. 
Melt the butter in hot skillet so that inside of skillet is completely coated with butter. Pour all the batter in the skillet and return skillet to oven.
Bake until puffed and lightly browned, (about 12 minutes). Remove promptly and sprinkle with powdered sugar.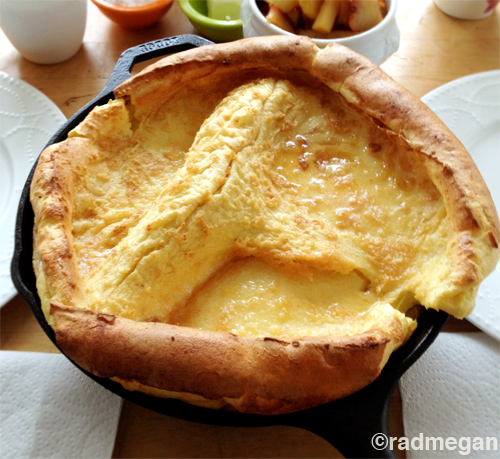 I chopped up three Pink Lady apples and sautéed them in butter (you know, to be healthy) while keeping an eye on my rapidly rising pancake in the oven. The apples were served directly atop the pancake, drizzled with just a DASH of maple syrup, and then dusted with powdered sugar. But apples… that made it healthy. Remember the apples!
Also, I did use a cast iron pan to bake my pancake, but you can use a Pyrex container as well (from what I've read).
Annnnd lastly, (and maybe because I doubled the recipe but) I baked my Dutch Pancake for 20 minutes.