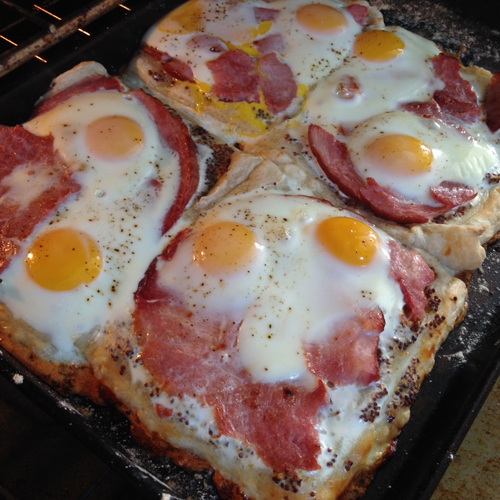 Sometimes I make meals for my family and they are lovingly referred to as "three things on a plate" because they were slapped together between a toddler's nap and episode of Thomas the Train. Nothing-special-meals that were just items I found in the fridge or garden and cooked...
Sometimes meals are slapped together and magic happens.
This recipe is the latter. If you don't have frozen puff pastry in the back of your freezer right now, buy some tomorrow. It solves a multitude of dinner quandaries. If you have eggs and ham in your fridge, and a bottle of good mustard in your cupboard, my friend, you are in for a treat.

Ingredients:
1 pkg frozen Puff Pastry, thawed (I used Dufour, but making your own would only make this more delicious)
Wholegrain mustard
8 eggs
1 lb spiral ham
Prep time: Approx 1 hour to thaw frozen pastry, 5 minutes to prep
Cook time: 18 minutes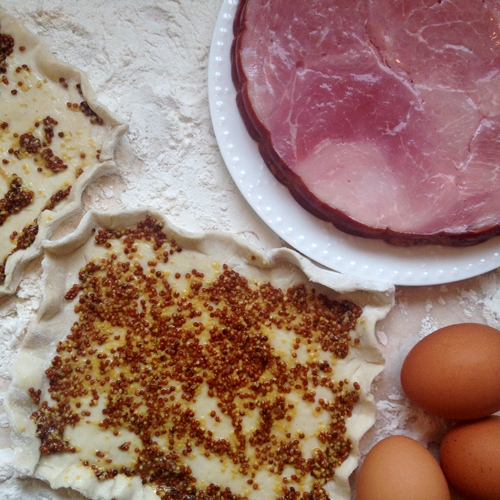 Preheat your oven to 400 degrees. Roll the room-temperature pastry out on a floured surface. Cut the pastry into quarters. Pinch the edges of each rectangle to form a lip. Place the pastry portions in a lightly oiled and floured baking sheet. Spread 1-2 tsps wholegrain mustard on each pastry. Cut the ham into small slices and in a dry skillet, brown it slightly. Layer the ham on the mustard-coated pastry. Crack two eggs per each pie, atop the ham. Bake for 18 minutes or until the pastry is golden brown.


Note that you could add your favorite cheese to make this ridiculously tasty, but we've been mostly dairy-free since January.
Note that this is crazy good without cheese. We seriously did not miss it.