I spent last Saturday teaching at Craftcation and I just wanted to say that I had THE. BEST. TIME.

It's such an humbling experience to attend a conference that brings such inspiring business owners, makers and doers together. Time and time again I overheard intense conversations about how attendees were torn between two workshops in one time slot; they KNEW that both would enhance their businesses or lives and would get so upset that they couldn't attend both. I can't think of another event I've attended or spoken at where I heard this same complaint so frequently. There wasn't a workshop, panel or hands-on craft class in the entire line-up that didn't look AMAZING. 

I started off the day teaching a small group of 16 students how to take their DSLR cameras OFF of the automatic setting, and get familiar with what the dials and modes mean, and how and when to use them. 
If I'm honest, I was a bit nervous about this workshop. My "pregnancy brain" reached unparalleled levels of forgetfulness over the weekend, but keeping the group at a manageable size was a great help to me. I sent everyone home with "recipe cards" on how and when to use bracketing, what depth of field is, and how to "paint" with light. I may have also handed out a few of the DVDs I recorded on

craft photography

!
(Apologies to the folks who were on the waiting list and got turned away. I'm sure whatever workshop you ended up in was just as useful.)
Next, I had the pleasure of sitting on the "Effective Blogging for Business" panel with my

Creativebug

buddy (and author of

Vintage Craft Workshop

), Cathy Callahan, the best-selling author of

The Handmade Market Place

and

Grow Your Handmade Business

, Kari Chapin, and moderated by the hilarious and whip-smart Rosalie Gale of 

Unanimous Craft

! 
The discussion was fairly straight-forward (how often should you blog, how do you get more followers etc.,) however the surprise take-away was that a lot of us are not blogging as much as we used to, and perhaps the reason is that blogging is NOT an effective tool for business. What do you think?
My last workshop was a full-house of crafters eager to learn how to build their own light box for better craft photography!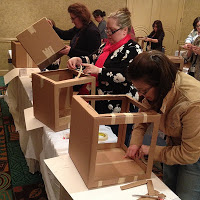 I was feeling mighty pooped out by this point, but I have to say, there is something awfully energizing and motivating about being in front of such a large group of folks, eager to learn. My students were awesome, and everyone left with a helpful tool that will diffuse light and ensure better product photography. Hooray for that.
Note- This workshop also had a huge waiting list of peeps who were turned away at the door- so if any of you are out there now- I have the

full light box tutorial here on my blog

. Enjoy!
One of these years, my plan is to attend a few workshops as well as teach them. But until that time comes, I'm just so honored to be a part of the Craftcation community, and want to extend a HUGE thank you to

Delilah

and

Nicole

who are the masterminds and muscle behind this event. They are two of the nicest, and hardest-working ladies you could ever hope to know. 
And thanks too, to their amazing crew of volunteers who always set my mind at ease and put a huge smile on my face. What a tremendous team you all are! 
Hope to see you next year, Craftcation! Thank you again for the memories.