It's May 15th! Half-way through this meatless month, and also, my 35th birthday! And now that I'm officially "mid-thirties" I wanted to share with you how I'm feeling.


Wait… don't go! I wanted to share with you how I'm feeling physically since my husband and I started our all-vegetarian, all-the-time diet!


Drum roll please… 


We're still alive! 


And also, I'm losing weight!! (Probably.) Our bathroom scale has been broken for some time, BUT all my clothes are fitting better and I even bought a bathing suit that I am EXCITED about! 




I mean, it's no itsy bitsy bikini, but it IS polka dotted and it's a BATHING SUIT that I don't want to take off. (This hasn't happened since I was about eight.)
I also wake up an hour earlier than normal without an alarm clock and I'm pretty much bouncing right out of bed. Why am I not groggy in the morning anymore? What voodoo magic have my sprouts and veggies cast on me? 


That's about all I've noticed thus far besides craving spicy peppers in almost every meal, waking up to a growling tummy, and getting tired fast if I skip meals. I used to skip a lot of meals and then over-do it with heavy dinners.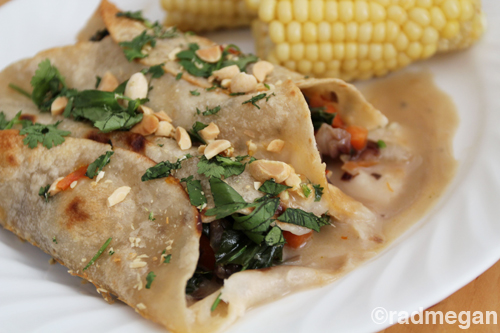 It really hasn't been too hard to omit meats from our diet. We've been supplementing with extra veggies, beans, nuts and eggs and we're taking vitamins, just in case we miss anything. I'm also trying a LOT of new recipes, which is maybe why we haven't MISSED the meat so much. It's stomach confusion, and it's working!
My newest favorite Vegetarian/Vegan dish is "Thai Veggie Enchiladas" which is based on 

t

his recipe

 by How Sweet it Is. I'm not typically a fan of "fusion" foods, this recipe looked so darn good that I knew I had to invent a vegetarian version of it. I added seasonal veggies that would up the protein and vitamin count and used Portobello mushrooms in place of chicken. I also added some Serrano chilies, just because I'm craving them all the time. (And no, I'm not pregnant.) Here's how I made my enchiladas:
8 flour tortillas (I used the uncooked kind that require a few minutes on the griddle. MAN it makes your house smell great when flour tortillas are cooking!)
1 large Portabello mushroom
1 tablespoons Grape seed oil (you can use any oil, but I had just picked this up at the market and wanted to experiment)
1/3 cup chopped/shredded carrots
1/2 cup chopped/shredded Radicchio
1 1/2 cups chopped/shredded kale
1 fresh Serrano chili, minced
1/3 cup chopped + crushed peanuts + more for garnish
1/4 cup chopped fresh cilantro + more for garnish
2 1/2 cups light coconut milk
1/3 cup + 1/2 cup sweet chili sauce
Preheat oven to 350 degrees F.
In a large skillet over medium heat, add Grape seed oil and sauté the cabbage, carrots, garlic, 1/4 teaspoon salt, and kale for about 8-10 minutes. Add the chopped Serrano, peanuts, cilantro, remaining salt and pepper, and toss to coat. Let cook for 1-2 minutes, then add the mushrooms. Pour in 3/4 cup coconut milk and 1/3 cup sweet chili sauce, mixing thoroughly to combine. 
Coat a 9×13 baking dish with nonstick cooking spray. Whisk the remaining coconut milk and sweet chili sauce together, and pour about 1/2 a cup into the bottom of the dish. Arrange your tortillas, and fill with the veggie mix. Use the remaining sauce to make sure your tortillas are completely coated.
Bake for 20 minutes, and garnish with additional peanuts and cilantro. 
I served these up with corn on the cob, but they would be great with nearly anything. The magic of "fusion food" I suppose! Anyway, I'll check back in soon with more recipes and and progress reports. How has your Meatless May been going? Any favorite recipes you care to share?