I wrote an article on "Green Laundry" for the Oct/Nov 2014 issue of BUST Magazine! It's got loads (pun intended) of great information on how to do laundry in an environmentally green, cruelty-free and wallet-friendly way! We changed our laundry habits this year, and it's been a huge success and money-saver! Below are a couple more tips (that didn't make the issue) but that have been helpful at home. P.S. You know we have a 16-month old now, right? That means, I do A TON OF LAUNDRY NOW, so I consider myself something of a stain-fighting super hero these days. Pick up the latest issue of BUST, and become a laundry super-hero too. It's way more exciting than it sounds.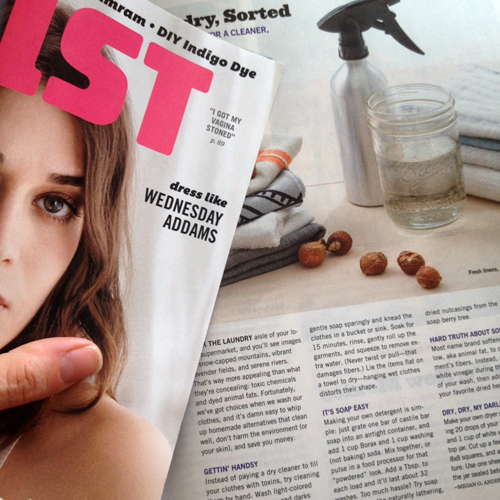 More tips:
Use the Booze:
Some things just don't need washing with each use (jeans, sweaters, sheets, towels) Use a 1:1 ratio of water and vodka in a spray bottle and spritz the items in need of "freshening". Hang them outside to dry. The vodka smell will disappear while the alcohol kills the odors.
DIY Dryer Balls: Attention knitters and felters! Dryer balls are made with wool roving or bits of old woolen clothes. They keep the static at bay and cut the overall drying time down. Stuff a handful of wool roving or bits of 100% wool clothing into a pair of tights and knot it. Continue stuffing/knotting a few more wads of wool into your tights. Wash in hottest water cycle your machine has and dry the whole leg of wool lumps on high heat. Cut the balls out of the tights; add a few essential oil drops, and more wool roving around the ball centers. Stuff and knot the larger balls into the other leg of your tights. Wash and dry one more time in hot water and high heat. When you cut your balls out of the tights, they will be ready to gobble up all of the static in your dryer, will cut the drying time down, and gently perfume your clothes with the essential oil scent you used. The balls will eventually get nubby with use but no less effective! Also, BALLS.
Attention Homeowners: Lucky you! You can use "gray water" from the washing machine to water your garden- as long as you are using a "green" detergent like the ones listed above. "Gray Water to Garden" will save big $ on water bills. To find out how to do this at home, check with your local hardware supply store or check out tutorials online.
Stain, Stain, Go Away: As inconceivable as it sounds, setting your food-stained clothing in bright sunlight will fade those pesky marks and brighten your dingy whites! Rub the fabric detergent recipe mentioned in the BUST article directly on the stain, hand-wash, and then hang the garment, stain-side to the sky! The longer the stains soak up the sun, the brighter they will become.