Several months ago, I wrote an article for BUST Magazine on tips for doing greener laundry. As part of that research, my husband and I made a huge bucket of laundry detergent (that we have since developed disproportionate feelings of love towards) and stopped using dryer sheets and fabric softener altogether. At the time, I had wanted to make my own dryer balls, but mostly just liked saying "dryer balls" so I never got around to it. Fast forward to Christmas with a toddler and POOF! Before my very eyes, all of my money magically transformed into trucks, puzzles and board books. I needed a few more gifts for some "grown up" friends but since money was tight, I decided it was time to pull my barrel of wool roving out of the craft room and make a practical (and pretty!) gift that cost next to nothing. Dryer balls for all!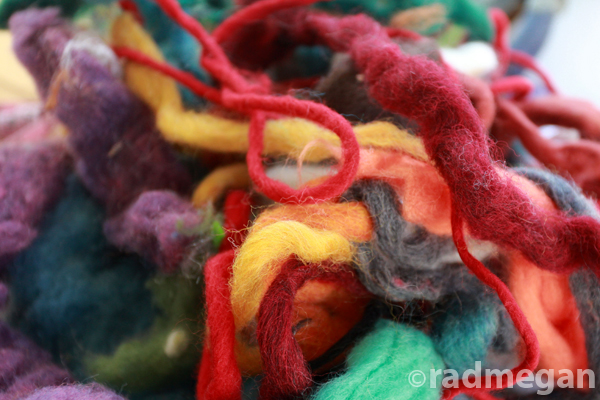 If you've ever dabbled in needle felting or yarn-spinning and are a woman or bank robber you likely have everything you need to make your own dryer balls.
Here's the check-list:
100% Wool roving in as many or few colors as you care to part with
[Or- 100% Wool yarn scraps and old woolen clothing you'd like to cut up- blends will not work- only use what you are sure is 100% wool]
Old, holey pantyhose
Washing machine & dryer
Scissors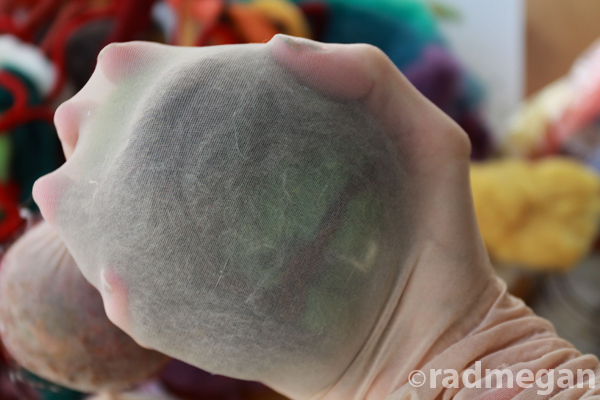 Begin by taking a large handful of wool roving (or cut up bits of that moth-chewed wool sweater you keep forgetting to mend! This is an excellent opportunity to up-cycle woolen items that would otherwise be discarded!) and shove the wool into your old hose.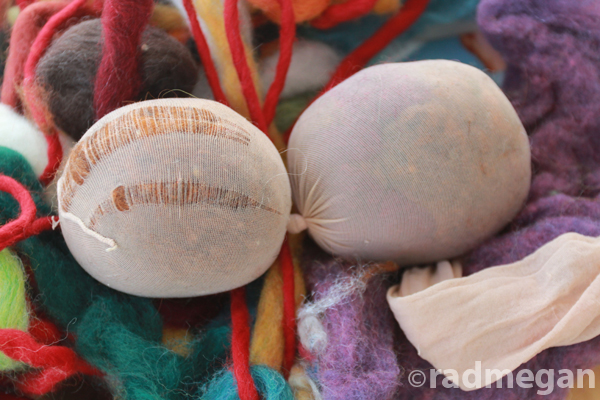 Scoot the wool-wad all the way to the toe-end of the tights, and tie a knot in the nylon above the ball of wool.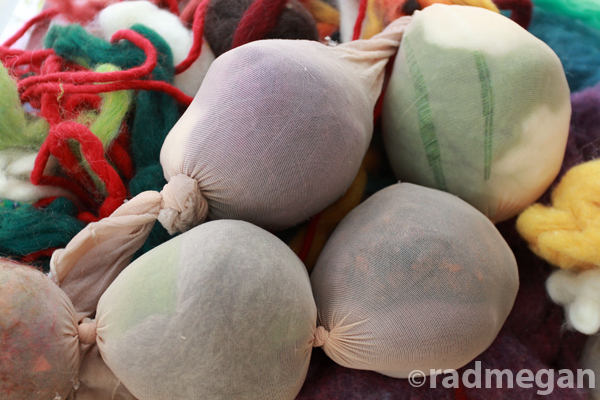 Continue shoving softball sized clumps of wool into your pantyhose and making knots between each ball until you have something that looks like a sausage link or decorative bunting made from a muppets reproductive parts.
Throw the entire leg's worth of knotted wool balls into your washing machine on it's hottest setting. Use laundry detergent as you normally would. I washed my fibrous sausage link with some towels so that I wasn't wasting a laundry loads's worth of water on one project. When the wash cycle is complete, feel the balls. Are they more dense? Compact feeling? If not, re-wash them in the hottest setting. You should be able to see and feel a change in the density of the wool balls after they are washed. If you are not sure whether they have begun felting, put them in the dryer on hot heat. When they are completely dry, you should see a difference in your string of wool balls.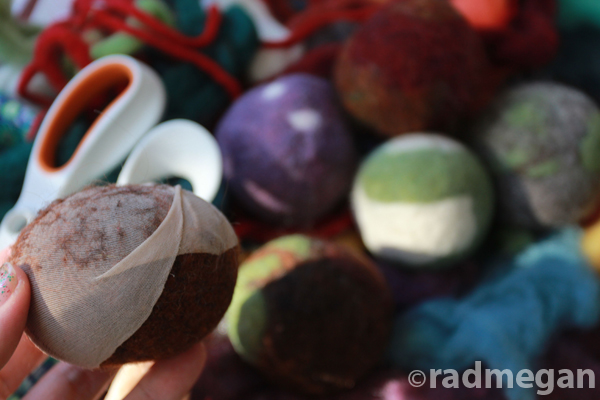 Cut each nylon pouch to free the dry wool balls. They should be more dense and smaller now.

Wrap the felted balls with another handful of wool roving. This layer will be the visible layer, so feel free to get creative with colors.

Alternatively, you could wrap the dryer ball cores with roving and yarn to give it a little decorative spin. If you are concerned about creating an ugly design on your dryer balls, remember that they will spend their days in a darkened dryer and will only be seen occasionally when they try to escape by hiding in a bundle of freshly dried socks or towels.


Use the second leg of your old tights or pantyhose to create a second sausage link with your felted dryer ball cores, now wrapped in the wool roving or yarn. Knot the tights, and wash and dry as you did in the previous steps. When you are done, leave two dryers balls in your dryer so that they can bounce around and promote speedier drying.
Wrap up your most decorative ones and gift them to someone who enjoys practical gifts.