Earlier this week, I spent six days in Anaheim, California for the Craft & Hobby Association show. I was at CHA on behalf of Creativebug and their beautifully made online workshops… but it was hard not to feel like I was in a reunion episode of TLC's Craft Wars with all of the familiar faces I ran into on the show floor!

One of the fabulous judges, Jo Pearson, and Craft Wars producer, Cathie Filian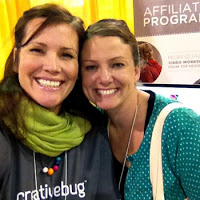 The ultimate in craft competitors, Angela Daniels and Pattye Duffner
The four-day long conference was such a phenomenal collective of creative minds. In fact, the above Craft Wars players have fast become some of my favorite people in the industry. Thanks for stopping by the Creativebug booth to say hello and flash your biggest smiles! I loved seeing you all!
 For a re-cap on the show from the Creativebug point of view- stand by for THEIR blog post re-cap on CHA, later today.
Hope to see you next year, CHA!