A few days ago, I posted about TLC's new summer show, Craft Wars. At the time, all I could legally say was "This show looks great, let's watch it!" but now we've gotten the "ok" to spread the word, so here's the word: "I'm going to be ON CRAFT WARS and it premieres TONIGHT!


I've actually been getting calls from friends around the country asking if that's ME in the pink sequins shirt they keep seeing on the Craft Wars commercials. IT IS! And wow friends, way to recognize my meaty arms and scowling face! 
To see my meaty arms TWICE... check out this newly added TLC video clip on Craft Wars. When you see (tall) pink sequins, it's probably me.



On our episode, I'm the craft assistant to my gal pal Ashley J. Long, who is the master crafter behind the adorable, hand-sewn monsters called Wumplings. I met Ashley a couple of years ago when she enrolled in my VERY FIRST class at the Urban Craft Center. She also taught at the UCC. I adore her.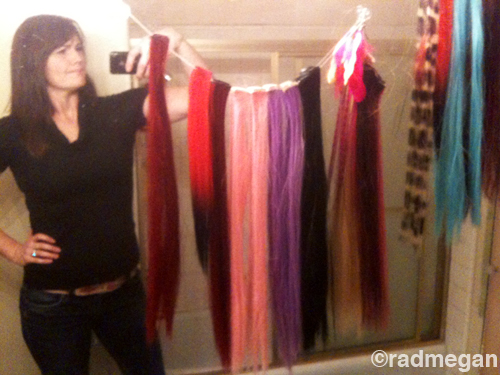 In fact, I snapped this picture of Ashley's fancy, colorful hair extensions hanging in her bathroom because she really is the rainbow sprinkles to my vanilla ice cream. 
Thank goodness I knew my stuff when I taught

that class

 at the UCC, because she and I became fast friends and when she decided to try out for Craft Wars, she asked me to be her sidekick based on my well-rounded craft background (jack-of-all-trades, master of like two or three) and because I was cool under pressure while teaching that particularly over-crowded and busy class. 
We look pretty cool and collected right? Here's how stoked we are to watch Craft Wars! I have no idea when our episode will air, but I can promise you that it will be coated in sparkle and drizzled in rad! Set your DVRs and let's all watch ok, BECAUSE I'M ON MOTHER FLIPPIN' CRAFT WARS, YA'LL!!!!!!!!!!!