It was fairly recently that I tasted sesame seed candy for the first time. What I liked about it, was that it was sweet, but not overly so. It was crunchy without tasting too much like something you would feed your pet. And as I discovered this weekend, sesame candy is also extremely quick and easy to make. In fact, this is a great recipe to make with kids.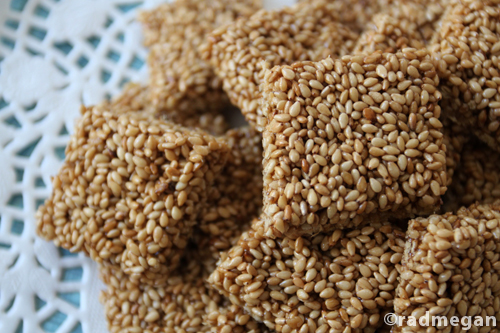 All you need to make your own sesame seed candy is:
1 cup sesame seeds 
3 tablespoons packed light brown sugar
3 tablespoons honey
Wax paper
Cooking Spray
Rolling pin
Dry skillet and small sauce pan
Knife
I started by roasting my sesame seeds in a dry skillet over medium heat. The seeds didn't change color too much, but they did begin to smell toasty and jump around in my pan. I stirred the seeds while roasting them (for about 5 minutes), then removed them from heat and set aside. 
Next, I sprayed two pieces of wax paper with non-stick cooking spray and set them aside on my kitchen counter. 
I measured out the 3 tablespoons of brown sugar and three tablespoons of honey in my small (only 1-qt) sauce pan. Over medium-low heat, I stirred the two sugars together until they were thick and bubbling. 
I then added my toasted sesame seeds to the pot, making sure that as I stirred them in, they were uniformly coated in the sugary syrup.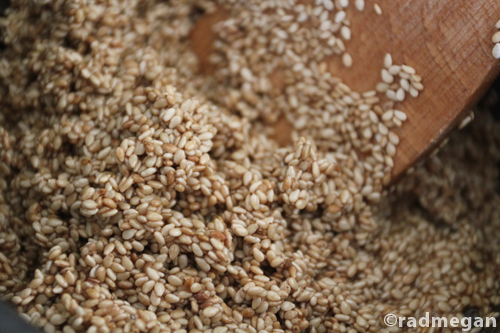 Once everything was mixed together (this should only take about 30 seconds to a minute) I scraped the sesame seed mass out onto one of the greased pieces of wax paper. I covered it with the second piece of wax paper (grease side down) and then, using my rolling pin, rolled the mass until it was about 1/2 inch thick.
I tidied up the edges using the back of my knife, and removed the top piece of wax paper. 
Next, I cut even slices into my sesame seeds.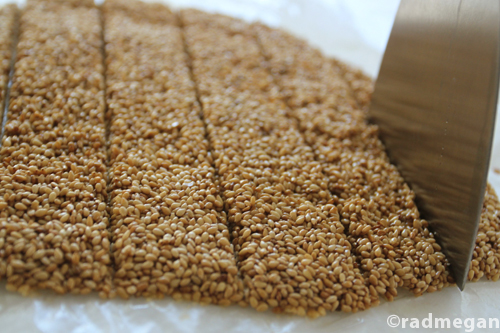 Once cut, I let the candy cool and harden. 
After only a few minutes, the pieces were cool enough to arrange on a plate. I was surprised that they didn't stick to each other too much, or to the paper doily I served them on!
After a series of heavy meals for Thanksgiving, Christmas and New Year's, this light treat is a great alternative to heavier desserts.
And I'd like to think that in some way they ARE in fact healthy for you- since they are chock full of sesame seeds- which contain antioxidants, Vitamin E and Iron- just to name a few!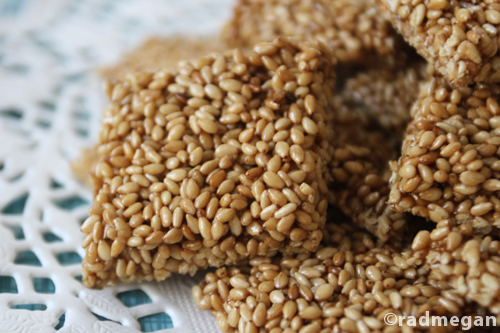 Whether or not they are a "healthy" candy, they taste great, and are a snap to make!